11th Annual Party Plane to Paradise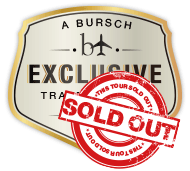 Join JJ & Kat on their annual winter getawaytrip to Cancun
February 17 - 21, 2023
KCLD morning show hosts JJ & Kat invite you to join them on their eleventh annual winter getaway. Enjoy the sun, sand, and beaches of the Riviera Maya. You don't want to miss out and be left back in the snow and cold of Minnesota in February. So be one of the smart ones and make your reservation today!
Inclusions:
Round trip transportation from St. Cloud, roundtrip flights from Minneapolis to Cancun via Sun Country Airlines, four nights deluxe room (all-inclusive) at the Hotel Ocean Maya Royale, transfers to/from Cancun airport to hotel, all meals, drinks, entertainment and non-motorized watersports, and KCLD Private cocktail party with games and prizes.
For more details click here for a copy of the brochure.
Contact Jill Fischer - Bursch Travel St. Cloud Group Dept. to reserve your place today.
Phone - 800-645-2331 or 320-251-3180