Prepare for the Unexpected with Allianz Travel Insurance
Book and travel more confidently by protecting your travel investments, belongings, and yourself with an Allianz Travel Insurance plan–offering valuable benefits and emergency assistance services.
Click here to learn about your options, get a quote, and choose a plan that best fits your needs.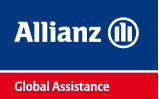 Products may not be available to residents of all states.
*Terms, conditions, and exclusions apply. Plan(s) underwritten by BCS Insurance Company or Jefferson Insurance Company. AGA Service Company is the licensed producer and administrator of these plans. Plans include insurance benefits and assistance services. Contact AGA Service Company at 800-284-8300 or 9950 Mayland Drive, Richmond, VA 23233 or customerservice@allianzassistance.com.
Center for Disease Contol and Prevention
CDC Travelers' Health offers information to assist travelers and their health-care providers in deciding the vaccines, medications, and other measures necessary to prevent illness and injury during international travel.
Covac Global is the first fully indemnified membership program that will pay for the cost of evacuation and repatriation should the member be diagnosed with COVID-19 while traveling outside of their home country.

The company's underwriter is Lloyd's of London. Covac Global provides emergency medical transportation around the globe. They maintain a network of vetted air ambulance providers and resources around the world to ensure access to the safest, most appropriate aircraft and medical crew. They are not beholden to their own fleet and can offer members flexibility of providers located in various areas of the world.
Currency Exchange
Find help with the current exchange rates worldwide.
DOT's Aviation Consumer Protection website
Designed to provide air travelers with easy-to-access comparative information on the services that airlines offer when they are responsible for flight delays and cancellations.
Escape Lounge Minneapolis/St. Paul Airport Terminal 1
Enjoy high quality fresh food in a new luxurious lounge - open to all
International Travel Health Clinics
Minneapolis/St Paul International airport
Smart Traveler Enrollment Program
The Smart Traveler Enrollment Program (STEP) is a free service to allow U.S. citizens and nationals traveling abroad to enroll their trip with the nearest U.S. Embassy or Consulate
Travel Sense - For People Who Love to Travel
TravelSense, the one-stop travel guide for consumers. Plan your next vacation with our valuable travel destination videos, travel advice, packing lists, tipping etiquette, consumer travel alerts, an online Find a Travel Agent tool and much more.
TSA
Current information about airport security.
Instuctions to apply for or renew TSA Precheck
U.S. Department of State
Official government site for Passport information
Worldwide Weather
No matter where in the World you travel you can find the current weather here.