Married Onboard Royal Caribbean Intl.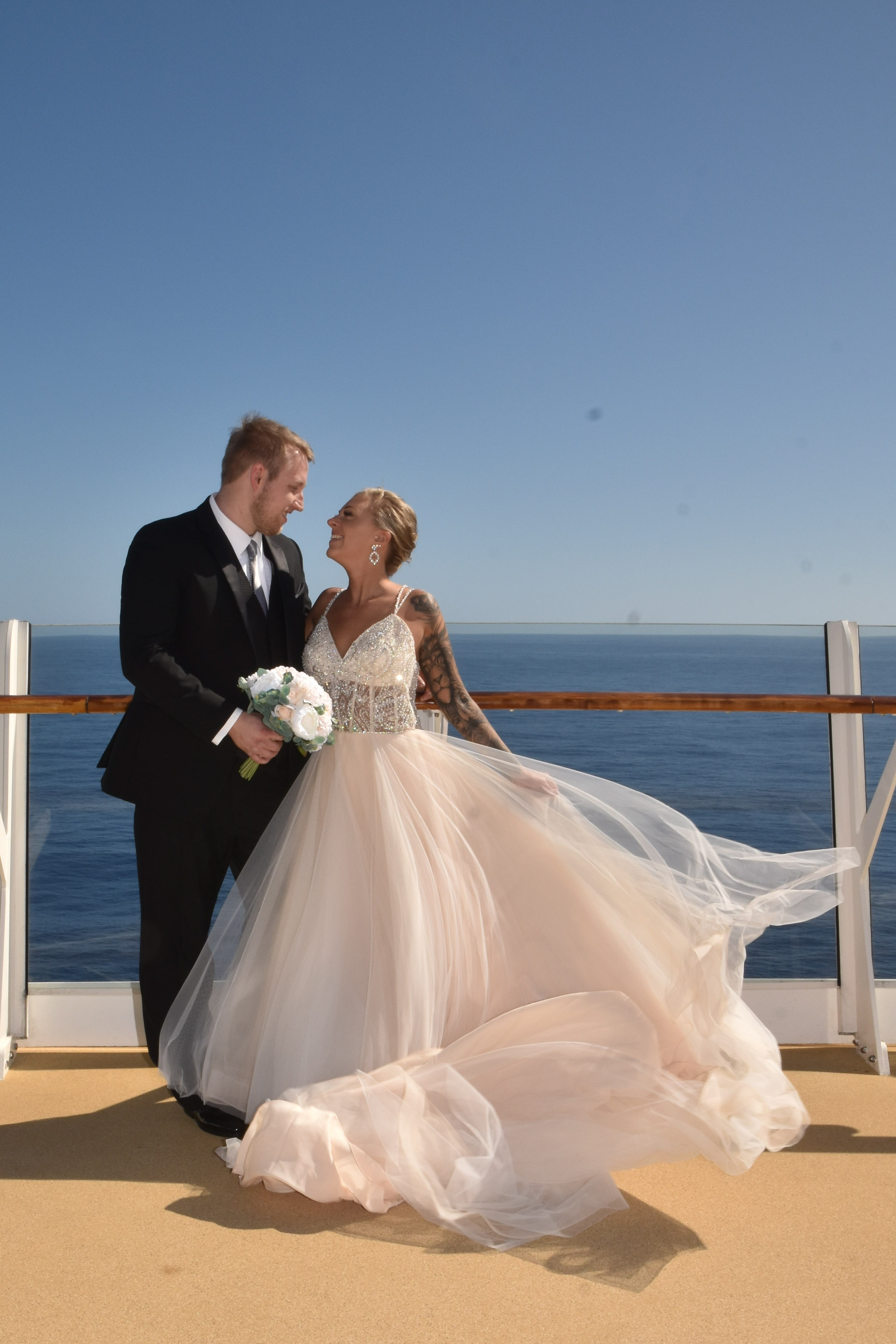 Weddings can be incredibly stressful, both emotional and financially. Alternatively, getting married on a cruise ship is the ultimate destination wedding. It's an affordable, efficient, and fun way to combine your nuptials with a honeymoon for you and a vacation for your guests. Whether you want to elope at sea during sunset, bring your entire family to watch you exchange vows on a Caribbean beach, or trek to the top of an Alaskan glacier to say "I do," a cruise ship wedding can make it happen.
But what's it really like? Here's the quick lowdown from Bursch Travel clients, Brady and Peyton, who were recently married aboard Royal Caribbean's Allure of the Seas.
We got married by the captain of the ship (Allure of the Seas)
43 family members and close friends joined us on the ship for the wedding.
Hair was done at the salon on the ship for myself and my bridesmaids.
Tuxes were in everyones rooms when we arrived on the ship for the wedding day/night.
Our group of 45 was all arranged to dine together every night on the cruise ship.
A wedding cake was served in the main dinning room for our group the night of the wedding provided by the ship.
Our room attendant decorated our state room on wedding day.
We were voted onto the Love and Marriage Game Show on the cruise ship for being the most recently married couple (and won the kissing competition)
The ship provided us with great wedding photos all around the ship
We received the exact coordinates where we were married in the ocean.
All 45 of us went to Air Port Beach in St. Maarten
Our wedding started at 11:30am, we were married by 12:00pm ,and everyone was in hot tubs by 2:00pm enjoying the sun!
Interested in planning your own wedding at sea? Contact the Bursch Travel advisor nearest you!