Bora Bora & Moorea Paradise
After 26 years, I was finally back. And this time, I was doing it in style. We stayed at the Sofitel Moorea la Ora Beach Resort for 3 nights and St. Regis on Bora Bora for 3 nights.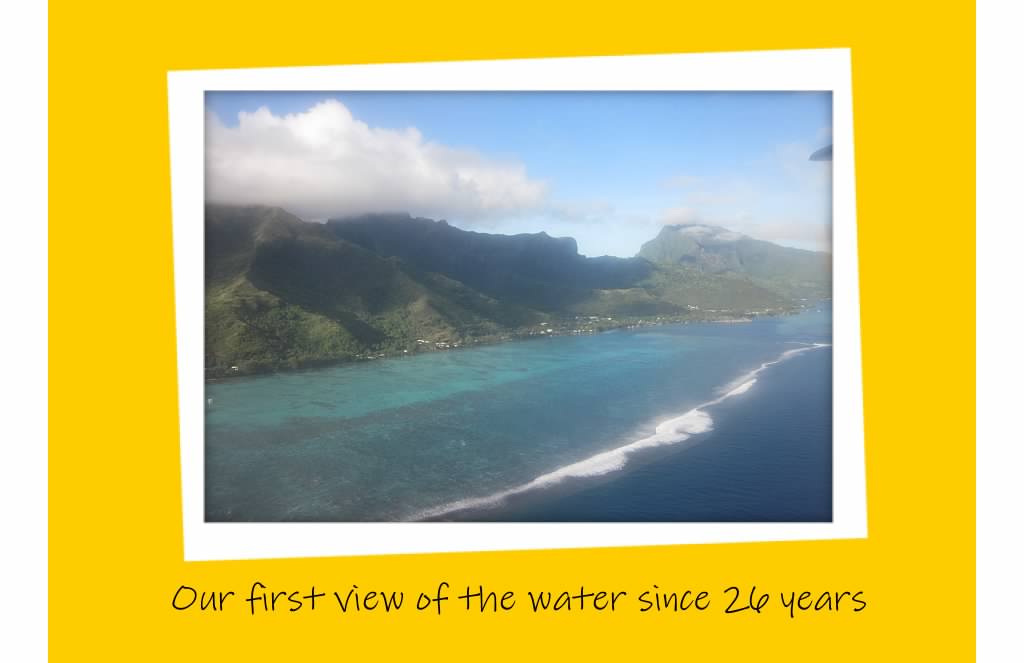 The Sofitel on Moorea is 5 minutes from the airport and 10 minutes from the ferry port. Our flight into Papeete arrived at 5 am and we took a 7 am flight to Moorea. From the airport, we took a taxi to the resort for approximately $15 (the resort will call for the taxi when you return to the airport or ferry). The Sofitel is located on Moorea's best beach and most colorful lagoon with an incredible view of Tahiti. I wouldn't have clients stay anywhere else! It is an all-bungalow resort with 30 over the water (OWB) plus garden, lagoon view, beach front, superior OWB and luxury OWB, which have larger baths and decks, and mosquito netting over the bed. It's a small resort with 114 bungalows in total. We stayed in a beach front bungalow and were steps away from the water and a direct view of Tahiti.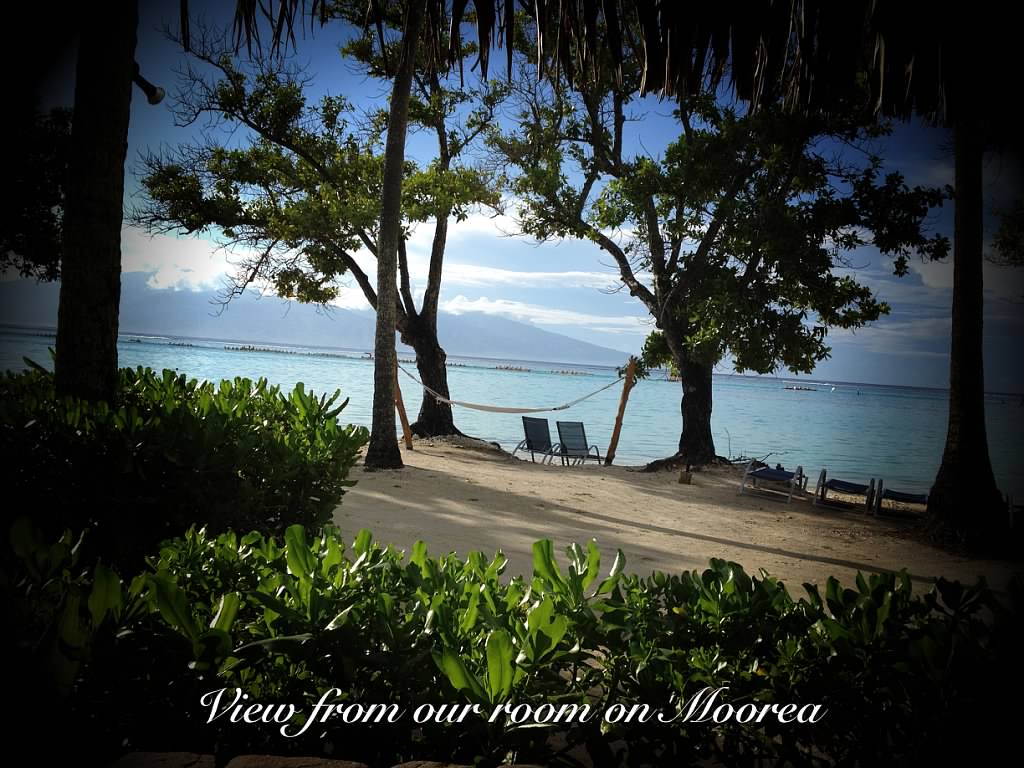 The OWBs are a littler larger than the ones on land and have two-level sundecks, ladder into the water, lounge chairs, outdoor shower and glass floor panels. All thatched-roof bungalows have a "garden" shower (no tubs)…a huge open shower with glass doors that open out to a small, enclosed rock and plant garden (see attach photo). Each land bungalow had a nice front porch with two very comfortable rattan chairs and a table…perfect for morning coffee or evening cocktails! The coral reef around Moorea breaks the ocean waves so the lagoon is usually very calm and unbelievably crystal clear…perfect for snorkeling, kayaking, peddle boats (all are complimentary). The water slowly laps onto the beach but you can still hear the roar of the waves and see the white water crashing out on the reef in the distance.
There are 2 restaurants and 1 bar (plus a very small beach bar which happened to be right next to our bungalow!) The main restaurant, Pure, serves buffet breakfast, lunch, and dinner (ale carte for lunch and dinner plus buffet); K is the gourmet restaurant under thatch roof lean-tos and sand floor. It's only open for dinner. With the soft lighting and the lights of Papeete across the water, it makes for a very relaxing and memorable dinner.
We flew from Moorea to Bora Bora which took about 1 hour, with a quick stop in Huahine to drop off and pick up passengers. The propeller plane was decent size…about 75 seats. The view of Bora Bora by plane is beyond words…the colors of water are indescribable…pictures do not do it justice.
The island is almost completely surrounded by motus (small islands). The Bora Bora airport, as well as the luxury resorts (St. Regis, Four Seasons, Inter-Continental) are located on one of the motus; so regardless of where clients stay, they will need a boat transfer. The main resorts all have their own desk at the airport when you arrive and each has their own boat. St. Regis has 3 boats; and if you're lucky enough to have the largest one pick you up (they use it when there are more than 6 guests arriving), you'll feel like royalty. This "boat" is a small yacht with an upper and lower deck…it makes the other resorts' transfers pale in comparison.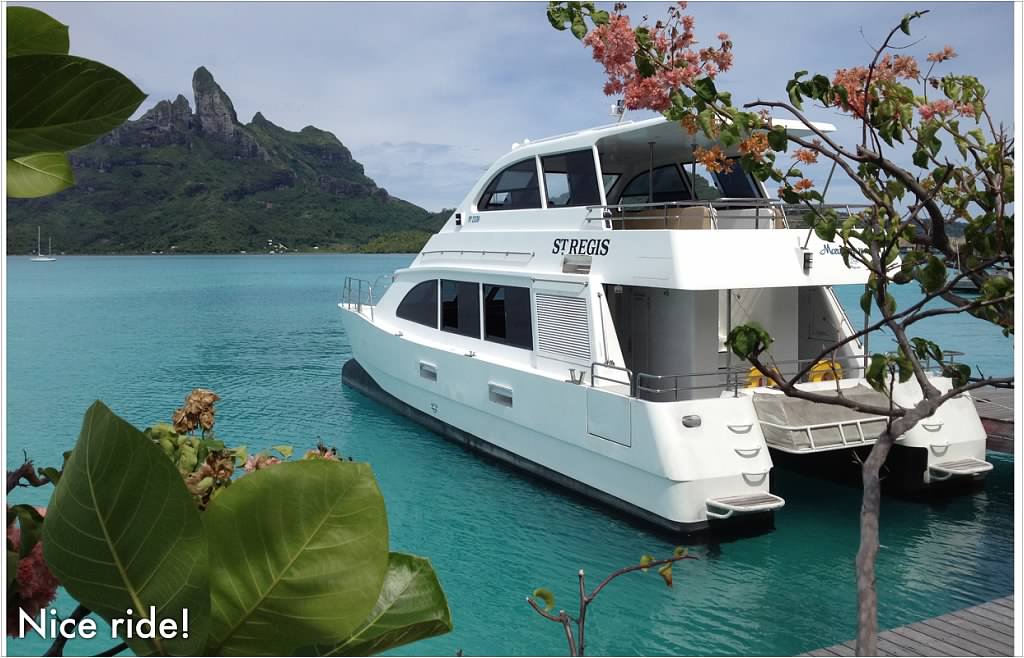 It takes about 10 minutes to get to the resort. The ride is jaw dropping…you have the sapphire/turquoise crystal-clear water surrounding you with the Mt. Otemanu and Mt. Pahia always in direct view on the island itself. The approach to St. Regis is like arriving on Fantasy Island. You're met on a marble receiving dock by your personal butler and immediately taken for a tour of the resort via golf cart. Then you're taken to your villa where your luggage magically appears and if you want, your butler will unpack for you (and pack up when you leave!). There are 100 villas in total with most being over the water; there are 14 land-based villas facing the ocean…not the lagoon…with their own pool and private beach area). The smallest over-water villas are 1500 sq feet (the largest villas on Bora Bora), again, jaw- dropping beautiful!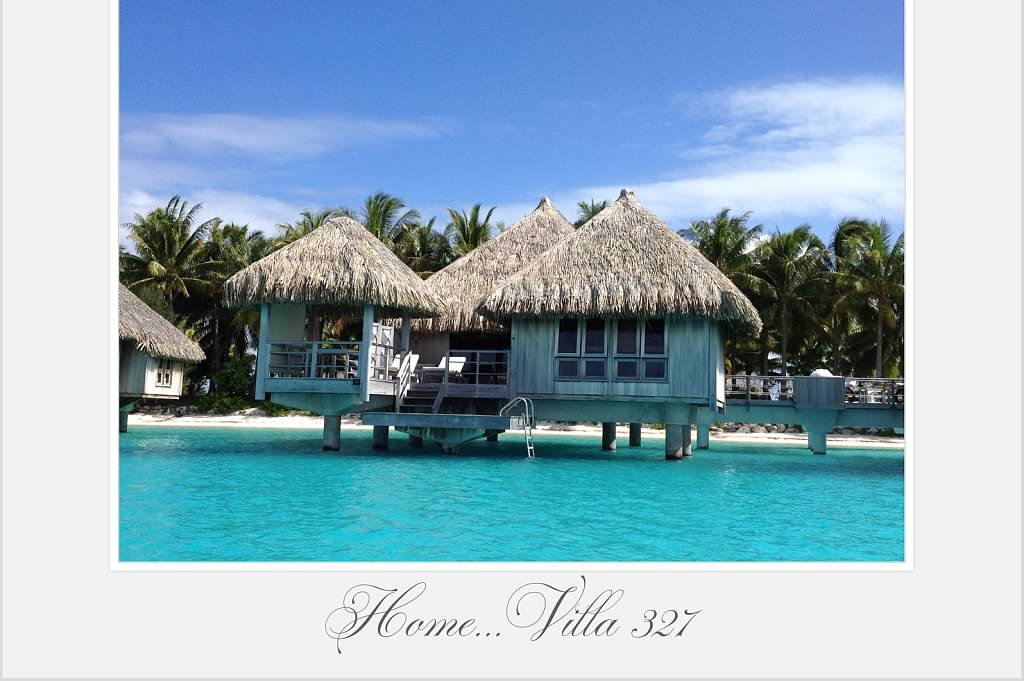 It was hard not to squeal like a kid on Christmas morning as the butler showed us the villa. The largest bathroom I've ever seen with a huge heart shaped tub and separate huge rain shower. I can't adequately describe everything these villas have to offer…take a look on line for yourself.
There are 3 restaurants on site and a swim up pool bar. Breakfast, lunch and dinner are served at Te Pahu; dinner only at Sushi Take Restaurant and at the over-water Lagoon Restaurant by Jean –Georges, where Chef Jean-George Vongerichten oversees gourmet dinners.
There are two pools; the main pool with the swim up bar and an Oasis pool with cabana beds (first come/first served) for those wanting seclusion.
But one word of caution. Not only is it expensive to travel and stay in French Polynesia, everything is expensive! Be prepared to spend $100+ each on dinner…more if they want alcohol. The food was good to very good…not great or out of this world when you consider the prices. Include breakfast in the package price when possible or advise clients to expect $40 pp buffet prices.
Want a few tips?
Bring lots of suntan lotion or be prepared to spend $30 for a bottle.
Over-water bungalows facing the island with a view of Mt. Otemanu are more expensive than the villas facing the lagoon. But what a view to wake up to every morning!
The weight limit on the inter-island flights is 44 lbs per bag (1 free plus carry on of 6 lbs) so don't pack to the limit of 50 lbs.
Exchange some money in LAX; resorts have ATMS and major credit cards accepted at the resorts and car rental.
No tipping in French Polynesia…it's considered rude (although St. Regis did have a place to add gratuity to your dinner bill if you wanted which I think is a sad sign of "progress").
You can bring up to 2 liters of alcohol into Papeete, which if you buy in the duty-free store in LAX is all sealed so you can carry it on the flights. Since cocktails and wine are very expensive at the resorts, you may want to defray some of this expense by bringing a little of your own.
"Dry" season is April-October (with much higher rates). We had 2 days of rain but 4 very nice days (with a little rain each day just to cool you off). Temps were high 80s in the day; high 70s at night. We didn't have much trouble with bugs of any kind; but it is the tropics, so don't freak out if you see a couple cockroaches and or little geckos. ( I saw one of each the entire week). Bring mosquito spray!
So should you go, too?... Well, if you love beautiful, lush scenery, colorful, clean water, diving, snorkeling; or are a honeymooners or anniversary couples, YES. It's also a great stopover to/from Australia or New Zealand. The peaceful islands nightlife means that after-hours activity is limited to romantic strolls on the beach and quiet drinks at the resort or back in your bungalow.
I can't wait to go again!
Stacy Beebee
Pegasus Travel, Omaha