Captivated by Cuba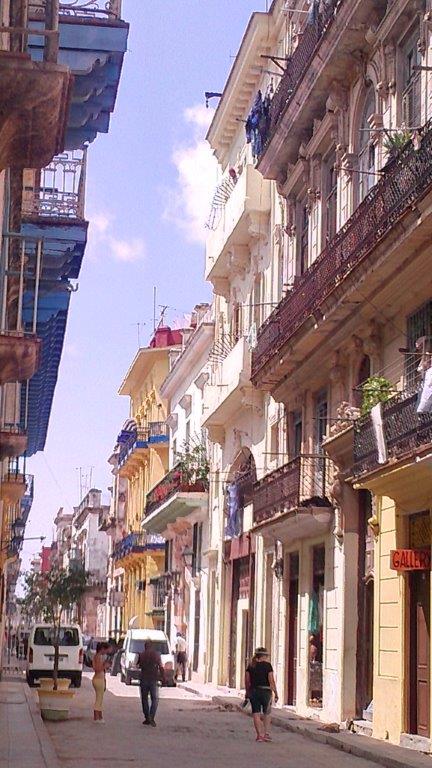 Travel to Cuba is legal for US Citizens if you are participating in cultural experiences and have direct contact with Cuban people to learn about their culture. People-to-People tours operate under a General license granted by the US Department of the Treasure, Office of Foreign Assets Control (OFAC). You must participate in all elements of the tour.
Our amazing journey to Cuba started with a flight to Miami! Most tour operators require participants on a Cuba trip to attend a mandatory informational meeting the day prior to departure. Believe me, this is a good thing! We were welcomed by our hosts, Premier World Discovery, and briefed on what to expect at the Miami airport the next morning, what to expect from customs/immigration in Cuba, etc.
Our flight to Havana was chartered by non other than Sun Country Airlines! The scene at the Miami airport that first morning was just as our guides described. Busy and chaotic, with many people who had large carts of items they were taking to their family and friends in Cuba. TV's are a popular export! A $200-$300 TV in the US sells for about $600-$900 in Cuba, so the Cuban residents gladly pay their family the lower price to bring it to them. Shrink wrap machines were everywhere. It took us at least one hour to get through check in, but the security lines moved quickly.
We were told our cell phones would not work in Cuba, and I have two teenage boys at home. I have to tell you that I had some inner struggles before boarding that plane to such an "unknown" and "forbidden" destination. Yes, I read the reviews about how safe the country is, and how well the Americans are treated, and that we could call the US from our hotel room at a spendy $3 per minute, but still, it is Cuba, and our two countries have a rocky history. But hey, Fred Bursch and Lee Hurd wouldn't leave two long term employees out to dry, would they?! J
When I told family and friends I was going to Cuba, the reaction was either "that's so awesome!" or, "why do you want to go to Cuba?…be careful!" Our guides affirmed that this was normal!
Speaking of our guides, the owner of Premier World Discovery, Stephen Birkett, was on the [tour] with us. Our tour director was the fabulous Marla Whitesman (she has been to Cuba many times over the last 15 years), and our Cuban guide was Eric, a very intelligent young man. All tours will have a tour director and a Cuban guide. Our guides also advised us, early on, to remember the "F" word when traveling to Cuba, which was "Flexible". Our itinerary did change from what was originally mailed to us. This is normal[.]
Upon landing in Cuba, after a short 45 minute flight, (you walk from the plane to the airport on the tarmac…love it!), you enter the immigrations hall. You go through one person at a time, and the Cuban immigration person takes your photo and studies your passport for longer than one would think necessary! They ask if you have been to Africa recently, if you have family from Africa, or if you have a passport from another country. Once they are through with the interrogation, they unlock the door, where you then enter the security, baggage claim, and customs hall. This procedure is as it is elsewhere, though they recommend you get a cart for your luggage and stick close together with your traveling companion, as sometimes people coming to visit family will try to sneak in between people, so as not to be seen with certain items. Also, there are two nurses sitting just outside of security, (before you claim your luggage) and sometimes they will ask for the health form that you are given in Miami. If they don't ask for the form, don't worry, and just keep going.
Outside of the airport, there were several hundred Cubans waiting to greet family and friends! I guess they weren't there to greet us, but that's OK, we still felt like rock stars! Spanish is spoken, but English is widely spoken and understood.
Immediately outside of the airport, you knew you were in Cuba when you saw all of the old American cars from the 50's driving around! They are gorgeous and they are running! The men from the group noted that the engines they saw in some of these cars were from Peugot, Mercedes, etc.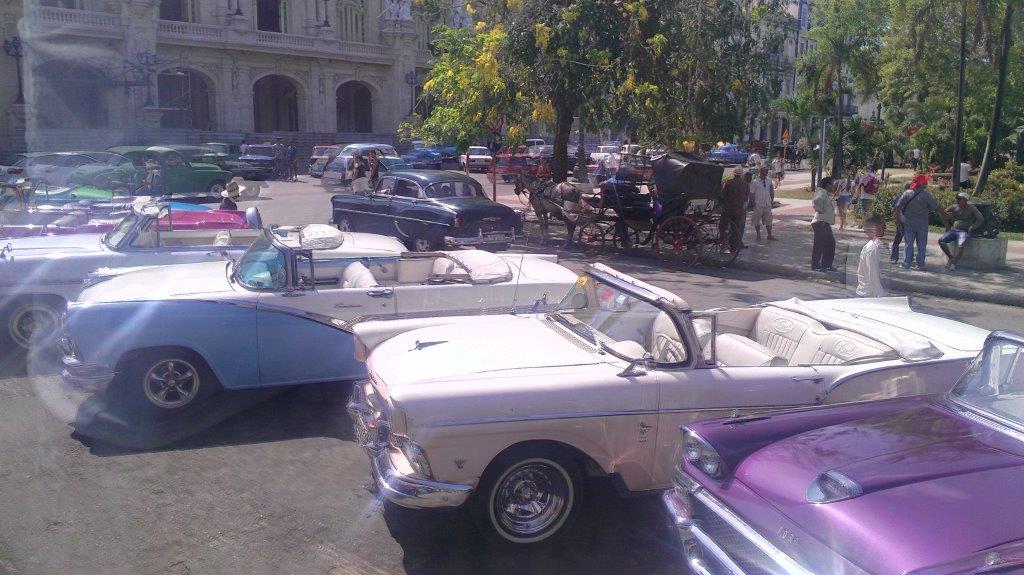 This was a people-to-people tour, so our days were structured from morning to night. We did have a couple of hours free time from around 430-630pm, but those of us hoping to catch some rays were disappointed that the clouds come out around that time as well!
Our hotel was the Melia Habana. It was very clean and modern, and you would think you were at any Melia resort in the Caribbean. The bathrooms were large and we always had hot water. The rooms were spacious and had TV's. There were a couple of restaurants, work out room, nice pool with swim up bars, cigar bar, etc. They had live music in the lobby each evening. We noticed there were a lot of security guards and there was no beach. Well, there was a beach, but it wasn't swimmable or that nice, and it was not accessible from the hotel grounds. They advised not to drink the water from the tap in the hotel, but I did brush my teeth with it, and did not get sick all week. Taxi from the hotel to Old Havana is 20 CUC. There is also complimentary shuttle service from the hotel.
The view from our hotel - Melia Habana: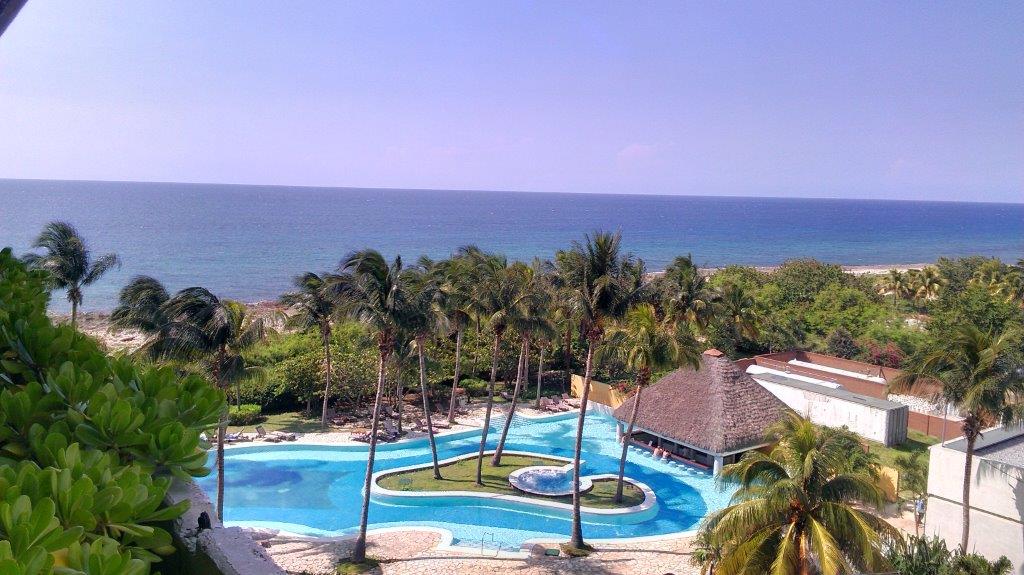 View from the Vinales Valley: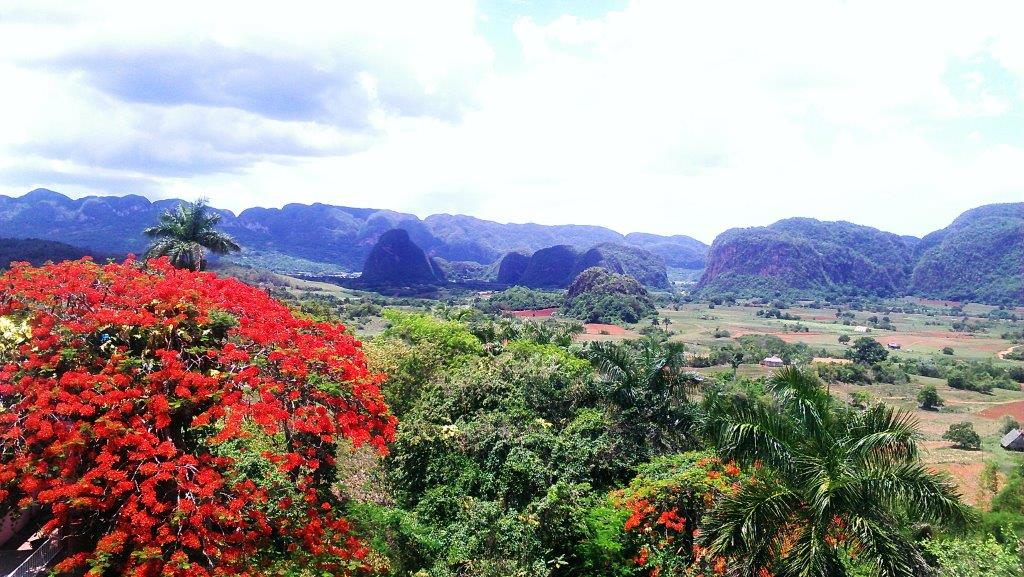 The currency is the Cuban Convertible Peso, also known as the CUC (or cook as in cuckoo). You cannot exchange this currency in advance. One CUC is equal to $1USD, but there is a 10% service fee to convert dollars to CUC's. When we landed, we went straight into our tour, with opportunities to purchase goods, and found that US Dollars were accepted by street vendors and other businesses. We were able to exchange our dollars at the hotel and at a "cadeco" across the street. The exchange rate was the same no matter where we went. Bartering is not the norm here. Also, at the time we went, US credit cards were NOT accepted. We brought approx $1000 in cash and that seemed to cover most expenses and souvenir purchases. The hotel did have an in-room safe, and I must say, we forgot to lock the safe a couple of times, and nothing was ever touched. As a side note, there is another currency the locals use, called the Cuban Peso, but it is complicated to describe. They use this mostly for purchasing their provisions from the government.
Note about the bathrooms!!! Sometimes toilet paper is in the stalls, sometimes a person hands it to you when you walk in (it is customary to leave a small tip). You do not put the toilet paper in the toilet, as the sewage system is not the greatest. In most cases, you can't flush the toilet. Someone will bring a bucket of water and flush the toilet for you. Our hotel was very modern and we did not have to worry about this there, though we were still encouraged to not flush the toilet paper. I found all bathrooms to be fairly decent and not smelly, though the airport was the worst. No seats on the toilets for the ladies, and they didn't empty the garbage cans often enough. Also, they usually used toilet paper for drying your hands, or very weak blow dryers.
We visited many fascinating sights, starting with a dance group and the home of local artist Jose Fuster. All people to people tours will visit sights like this, with some tours catering specifically those interested in art, or education, or music, etc.
Music, of course, is huge in Cuba. Everywhere we went there was music and it is important to know that once a performance is done, the musicians will come around and ask you if you want to purchase a CD. You do not have to do that, but it is a great way to get some very authentic Cuban music!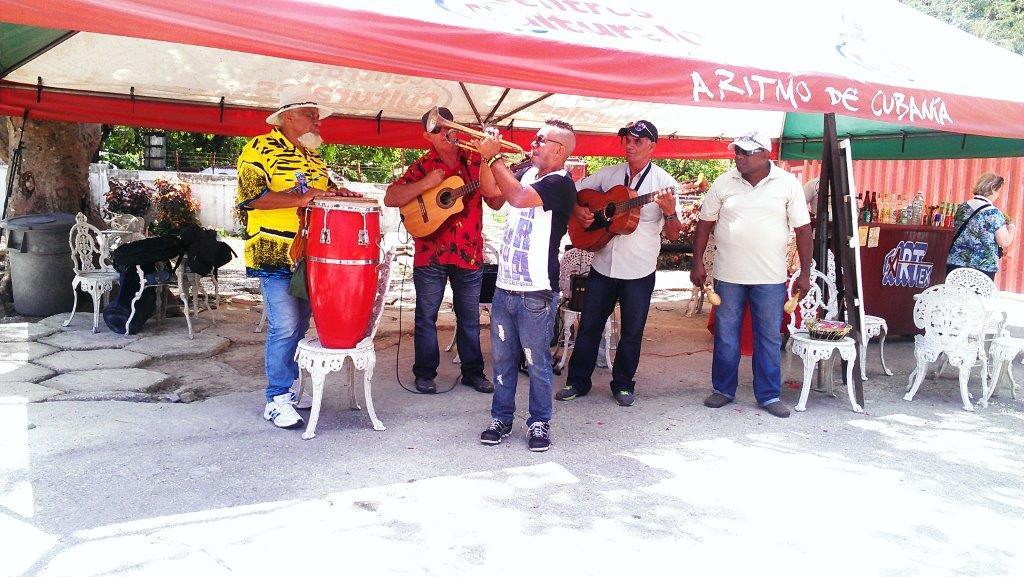 The food in Cuba was awesome! The expected rice and beans and pork were served, but not at every meal. Seafood was fresh and delicious. We ate at some state owned restaurants, but by far, the best restaurants were the paladar's, which are privately owned restaurants (now allowed by the Cuban government!), usually in a part of the owner's home, though not always. This is where you got delicious, home made Cuban food. The cost was about $40 for dinner and a couple of drinks, per person. Most Cubans cannot afford to eat at the paladars.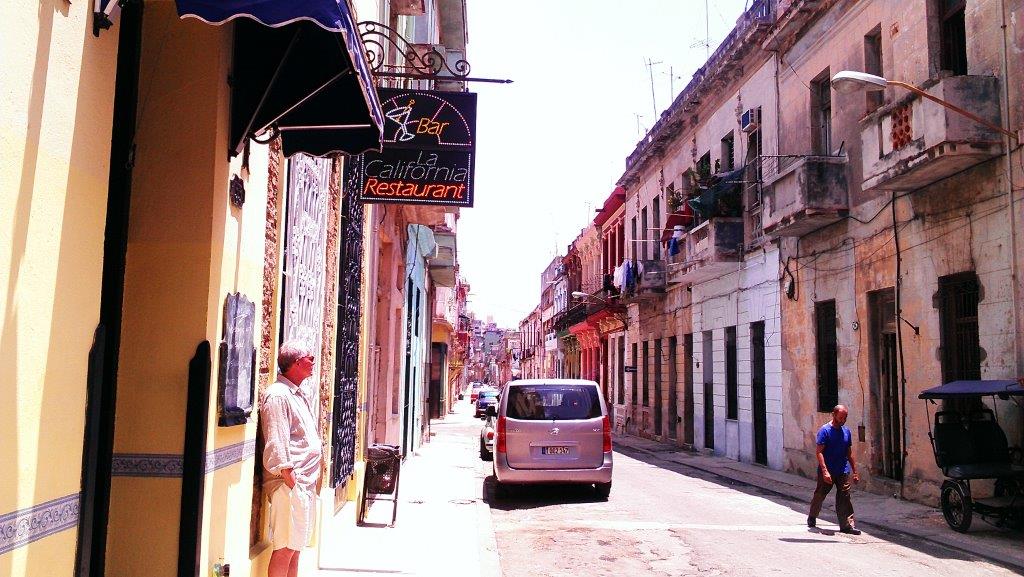 Taxi's in Havana were plentiful and inexpensive. As of now, there isn't a lot of traffic in Havana, as many people can't afford cars. I thought the roads were good, even as we ventured to the countryside.
We visited a cigar making factory, which was fascinating. We were not allowed to take photos, but there was a huge, huge room with many workers rolling cigars. It smelled wonderful! The workers are allowed to smoke at their "desks"! Americans can now bring up to $100USD worth of cigars and rum (total) back to the US. I purchased 5 cigars for approx $50USD. And no, I am not going to smoke them!
This is a tobacco drying house in rural Cuba, near Vinales: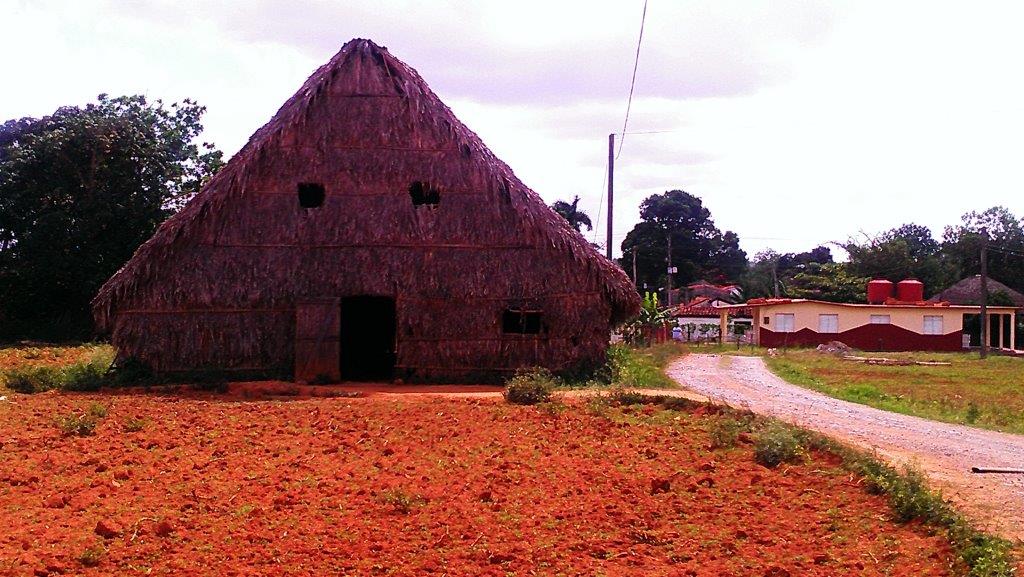 We visited the Ernest Hemingway farm, Finca Vigia, which was beautiful, but extremely overcrowded. The people in charge of the farm need to figure out a way to control this!
View of Havana from Hemingway's farm, Finca Vigia: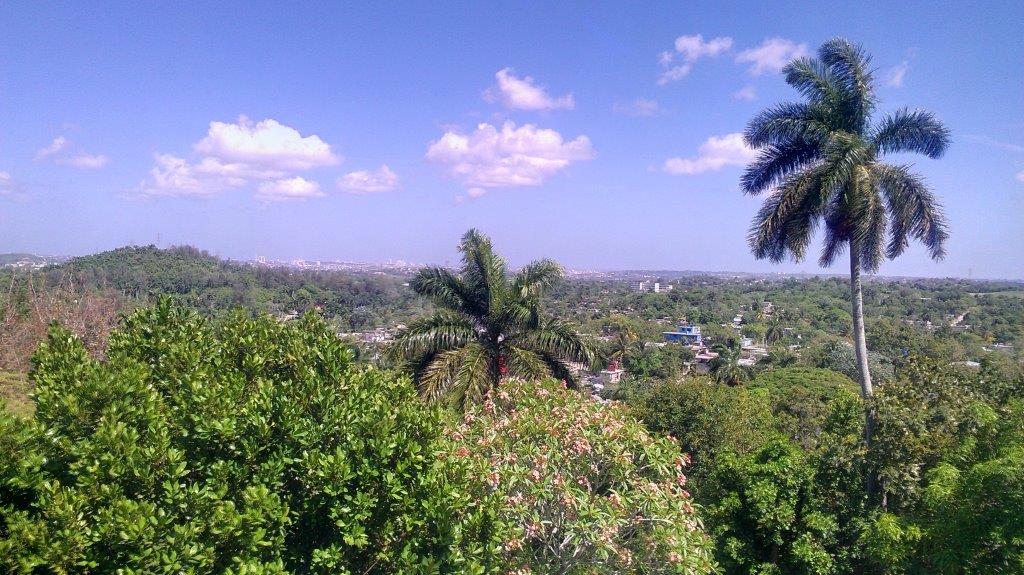 Hemingways boat, "Pilar"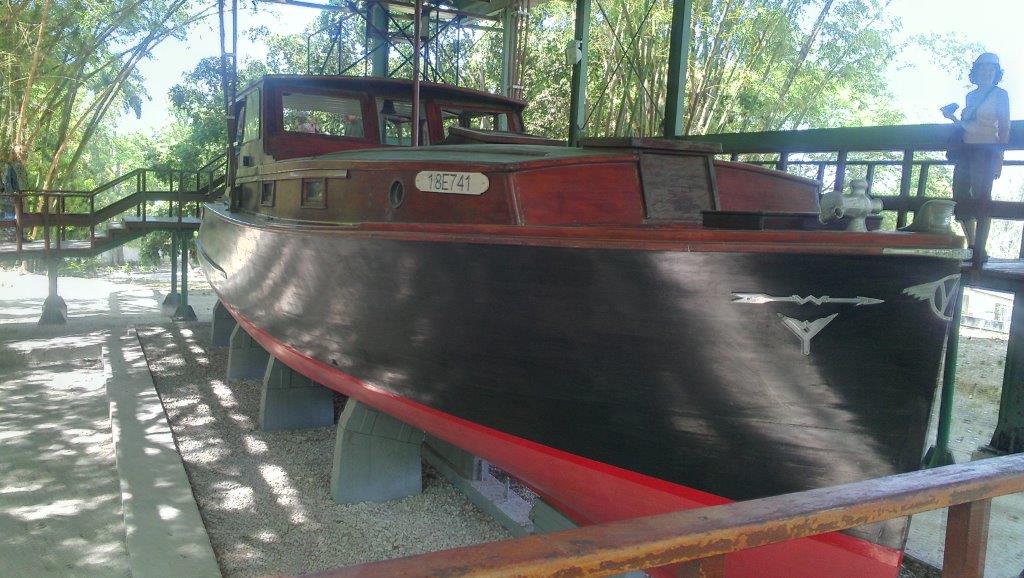 Architecture here is amazing as well. It looks a lot like Europe, except some buildings look like they are in a war zone. There are a lot of upgrades being done, but it is a slow and expensive project. Extended families live together in apartments, and most can't afford updates. Rent is free, but the government owns the land and no one owns the buildings. The family apartment is passed down through the generations and they can have an apartment in the city and one in the country.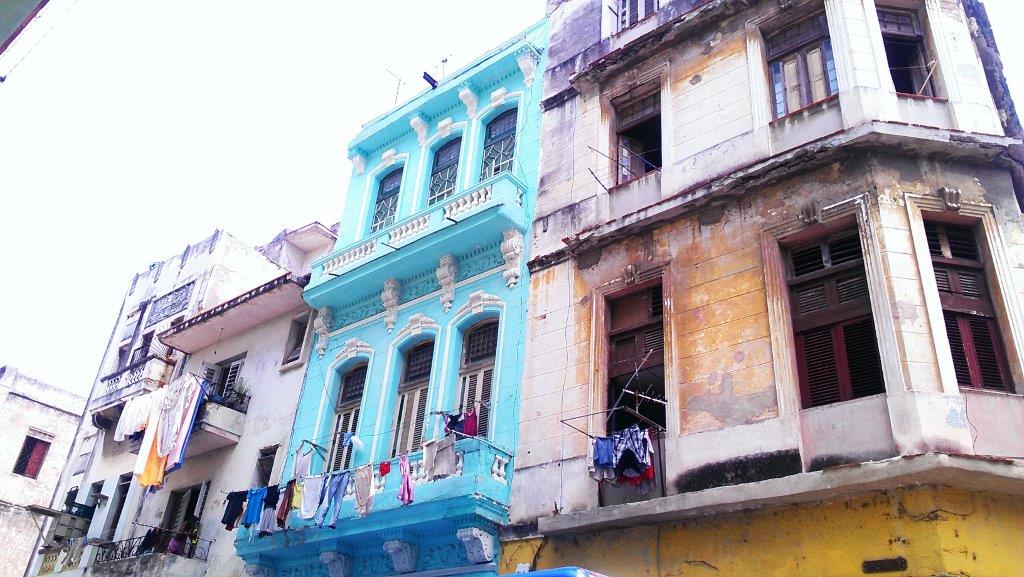 Health care and education is free to Cuban citizens. The health care system is excellent and the cost of the tour usually includes health insurance for tourists.
I was surprised to learn that Fidel Castro took great interest in the arts and education. We visited the Literacy Museum where were learned about his literacy campaign from 1961-1962. Students that could read were sent to the countryside to teach the farmers to read. These students were committed to 3, 6 or 9 months away from home with the youngest being just 8 years old. Within one year the illiteracy rate was less than 1% as it still is today. Today education is paid by the government through high school for all and then college for those that qualify. A college education depends on your overall grades and test scores much like here in the US.
In the short time we had to wander alone, we did encounter Cubans who wanted to talk to Americans, (usually by way of asking us if we wanted a taxi!). When they asked where we were from, I would say "Minnesota" to see what they would say. They were quick to know, of course, that we were American's and when we said we "didn't have time or need a taxi", they would say that those tours we were on wanted it that way, and their government wanted it that way, meaning, the tour operators and government got all of the money, not the locals.
Most Cubans we talked to were anxious for relations between the US and Cuba to "normalize". While we don't want to see McDonald's and Starbucks in Cuba, the Cubans do! Their economy fell apart with the fall of the Soviet Union in 1989, and most Cubans are very poor. They want and need the resources from the US and very much want the embargo to end. However, this needs to be a slow process as the infrastructure isn't ready for an immediate influx of tourists. I would encourage those traveling to Cuba to read books to brush up on the history of Cuba and relations between Cuba and the US. I am glad I did this, as it was much easier to understand some of the discussions that occurred as to how Cubans view Americans, etc.
I did feel very safe there. We walked alone several times, and never felt threatened. We walked to a local grocery store a couple of blocks from the hotel, and felt safer doing that, than walking a couple of blocks from our hotel in Miami!
The last evening was most special. As there were 41 people in our group our farewell dinner began with the arrival of 10 vintage 1950's convertibles for the ride to the restaurant. Our pick was a 1958 red thunderbird. We rode along the Malecon, which is a broad seawall which runs along the coast. Was a beautiful evening to let your hair blow in the wind! And of course for us older folks to feel like a teen again!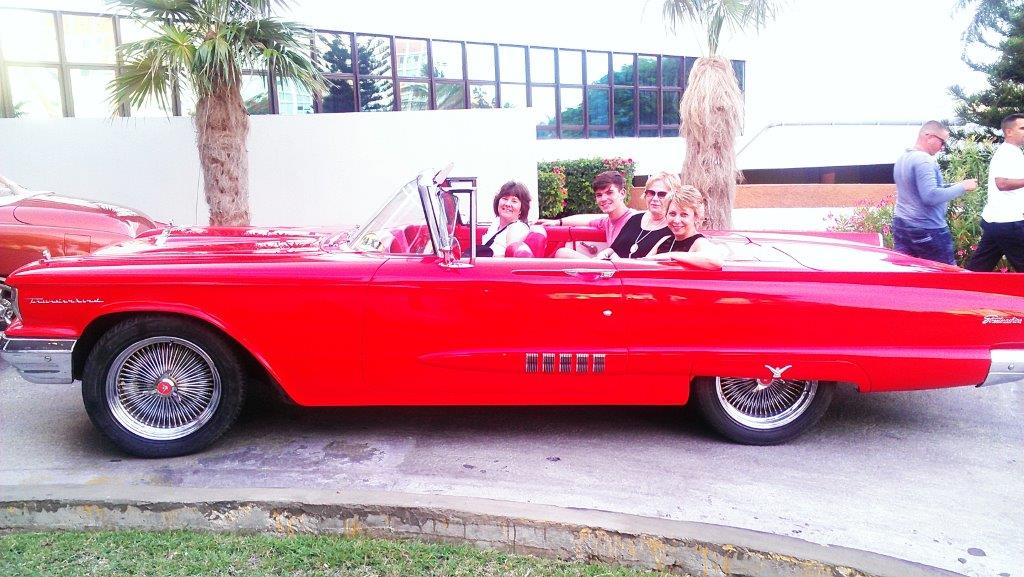 Upon leaving Cuba, we went through the immigration process again, the same as on arrival. Because I had a box that was taped, with a sculpture inside, I was asked many questions! I was pulled aside and the official carefully opened the box, checked the contents, and resealed it. Upon arrival in the US, we were told that generally no questions are asked of incoming US citizens who have traveled to Cuba, but again, my box caused me trouble! I went to the "special area" in customs, and once the customs officer found out where I had been and what I had in the box, he said "I don't know why they sent you back here! You can go!!" J One thing to note, the customs line in Miami was looooong, though it did move fairly quickly. We had about a 10 minute walk from the plane to customs. Crazy. I would allow at least 90 minutes -2 hours for customs in Miami.
Our passports were stamped with the entry and exit dates in Cuba, and we were instructed that we need to carry our proof of tour dates and group in our passports for the next 5 years. We also had to keep a journal of the trip, and we need to keep that journal for several years as well.
NOW is the time to go to Cuba. After the next Presidential election, relations between the our two countries could change again, although I personally hope they don't.
Cuba is not a destination for "sun seekers". We were told most Canadian's skip Havana and the interior of Cuba, for the all inclusive resorts on the beaches, like we American's do in Mexico and the Caribbean. We as American's, do not currently have this option of laying on the beach and being on our own. Clients who are well traveled and adventurous, or those interested in history, the arts, etc., would love this destination.
Cuba is a truly fascinating destination. I absolutely loved it and would return again soon! The Cuban people don't have much, but they are happy and welcoming and resourceful. We have a lot we can learn from them.
Written by Jill Ward & Karen Klaverkamp, St. Cloud