Costa Rica
Costa Rica's year round average temperature is 76 degrees. Because of its tropical climate, abundant rainfall and ABSENCE of a real winter period, Costa Rica can best be described as the place of "eternal spring." One of the most used sayings, "PURA VIDA," literally means pure life. A friendly welcome greeting! Costa Rica is one of the countries with the greatest diversity of birds in the world, 903, and 1400 species of orchids. They also focus on issues such as ecology and being powered by renewable energy.
Best weather is from November through May. Best values June through October. (Rainy season) Currency is the colon or colones. U.S dollar is also accepted in the tourist areas and some even price it in U.S dollars. I would recommend small bills, ones, fives, and twenties. Remember, sometimes change given back will be in their currency. Credit cards are accepted. NOTE: sometimes you can get a discount if you pay by cash. Costa Rica is in the Central Time Zone and does not adapt to daylight savings time. 12 hours of daylight from 6:00am to 6:00pm every day. Spanish speaking with a few that knows English in the tourist areas.
A valid passport is required and departure tax of 19.00 must be paid before leaving the country. Transfers are included for guests staying at the Four Season Resort. For other select hotels, round trip transfers must be purchased. Be careful if you decide to rent a car. Many roads are in poor condition with potholes, unpaved areas, sharp turns, poor signage, etc. Due to the terrain and weather, it is best to rent a four-wheel vehicle and a GPS. I would encourage purchasing transfers between areas. Worth not getting lost and stress free. Drive time minimum an hour to hour and half and some may be 2-4 hours plus. Taxi is a good option for going out to dinner to town from a resort. Pack motion sickness pills, sunscreen protection, and bug repellent!
We flew in and out of Liberia airport. (San Jose is the other option) Closest to the Guanacaste region, which is geographically located to handle the tourism with resort options/tours. Example-all day tour offered is to Nicaragua from any of the resorts/hotels. A few towns are within walking distance or via taxi for shopping and restaurants. Tamarindo is a popular surfing beachside town. Things to look for are coffee, woodcarvings, wood salad bowls and platters. Besides coffee, you can also purchase a coffee crème liqueur, Café Rica, a clear colored rum that is a local specialty. They have the tastiest bananas, mangos, pineapple, etc! Costa Rican daily staple of rice and beans is a great option and don't forget the plantains. (Starchy like potato that tastes better when it's prepared crispy like a chip)
If you are looking to see more wildlife, Guanacaste area may be a little disappointing. I would suggest the additions of two or three nights Arenal/Montverde area. You need to travel to Arenal Volcano or Cloud Rainforest to see increase the chances. (Natural habitats) We almost had a glimpse of Sam the Toucan (Froot Loops box) along one of our drives but it flew away…. sigh, sigh. We did see lots of monkeys and iguanas. I also not recommend Costa Rica for just its beaches. Few white sand beaches but many I saw had coarser golden or black sand. (Muddy during the rainy season) Currents can be strong and unswimmable but good place for surf beginners. NOTE: Beaches are all public-locals peddle their wares.
HOTELS:
Flamingo Beach Resort & Spa -one hour away from the airport. 120 rooms, studios, and suites. Breakfast is included with optional all inclusive plan. Our delicious lunch included locally organic grown produce from the farm to the table. Two swimming pools, swim up bar, spa, gym, family center, tennis court, and a casino. Water sports center-snorkeling, scuba diving, kayaks, boogie boards, etc. Photographer takes shots during the day and then available to purchase. Nice, clean spacious rooms. Secluded protected white sand beach with great sunsets. (Flamingo beach) The hotel is Eco friendly and has high standards in keeping the resort as natural and pure as possible.
Westin Golf Resort & Spa-Playa Conchal -hour and half from the airport. It is the only Starwood Brand Westin in the world to be all-inclusive. Sprawled out property with two story bungalow type houses. Requires lots of walking or taking golf cart type shuttle. Check in went smoothly and a wristband is issued. All suites include marble floors, private balcony, living room area with stocked fridge, and loved the rain shower in the bathroom. (In room safe) Family suites include children getting a beach kit and private check in. Impressive 18 hole par 71 Robert Trent championship golf course with breathtaking views of the Pacific coast. Italian, Mediterrean, Asian, Latin, and a buffet restaurant. No limits but do need to make reservations. There are 5 bars including swim up pool bar, 2 free form pools, fitness center, spa, tennis courts, skeet shooting and resort shop. Beach activities, nightly activities include shows, casino, karaoke, etc. All rooms either have garden or pool view. 1.5-mile stretch of white sand beach known to be one of best in Costa Rica. 24-HOUR room service. Food was really good! Latin and Asian and both were delicious. Room service for breakfast and some gals ate at the breakfast buffet. (Good comments) Only downside…no views of the water/sunsets unless you go to the beach and the place is HUGE…. call for shuttles to go here and there and to the lobby. (Very easy to get lost) Overall, it is a gorgeous resort with clean spacious accommodations and excellent service.
Riu Guanacaste-Matapalo Beach - largest all-inclusive with 701 room. Subtle color décor, which I was surprised. Same cookie cutter layout as all Riu's. Five restaurant choices including Italian, Asian, steakhouse, and buffet. No room service. Four bars including swim up pool bar. On site nightclub, daily and nightly activities. Riu evening program or live music. (Theater) Watersports, spa, fitness center, and tennis courts. More hustle and bustle…lively active guests.
Riu Palace- (All-inclusive) Brighter color room décor more of the Riu standards. (Hot pink and dark purple) It has six restaurants including also a Fusion and Patisserie and ice cream parlor. (Reservations required at the ala Carte restaurants.) Five bars including swim up pool bar. 4 swimming pools, children's pool and playground, watersports, spa, fitness center, tennis, and casino. Built in 2012 and is still showing newness. Guests can play/eat at its sister property but not the other way around. I noticed the grounds at both resorts were well kepted with lush foliage/flowers giving the properties even more of a local natural environment.
Andaz Peninsula Papagayo-Nestled in the cliffs with natural free flowing free themed property. This property is a diamond in the rough. 132 rooms, 21 luxury suites. I just loved the landscaping décor through out the property with the use of bamboo. Specially designed by a local Costa Rican architect and uniquely infused with local products. Rooms have either partial bay views or tropical forest views. Clean, spacious rooms with compliment non-alcoholic mini bar and free Internet access. There was a spa as well as three restaurants offering, again, farm to table ingredients with locally inspired cuisine. We ate lunch here and it was mouthwatering delicious and the menu prices were average. Beaches are a ways down from the rooms but there were 3 family pools, adult pool and infinity pool. Watersports and another Par 72 championship Arnold Palmer 18 hole golf course to keep you busy. Beautiful with amazing views and gorgeous rooms and the landscaping is breathtaking.
Allegro Papagayo by Occidental-1/2 hour from the airport. (All-inclusive) Spanish themed through out the property. 300 rooms-garden, ocean, or premium ocean view. All rooms either had a terrace or balcony. There is one large swimming pool with swim up pool bar. Watersports are available, as well as a spa, and children's activity program. Three restaurants including Italian, Tex Mex, buffet, etc. Two bars, disco, and tower with a bell that you can climb up for birds eye panoramic view. This was my least liked property. None of the restaurants had the air conditioning on, lights were off, rooms were okay, smelled musty in the disco, and disappointed in how they didn't seem like they wanted to present their property to us the travel agents who turn around and sell them. I was really disappointed and got the same vibe by others on our hotel inspection.
Four Seasons Resort Papagayo- 45 minutes from the airport. 153 rooms-garden, deluxe, premium, and suites and villas. Each balcony/terrace is area is fully screened. (Keep out the bugs and critters) Forest, partial bay, or ocean views. Again designed with crafted wood and stone finishes. Over sized rooms that are clean and comfortable. Three restaurants and they do beach service as well. (Golden sand beach) Farm to table cuisine like grilled local fish. Arnold Palmer golf course is nearby and there are 3 swimming pools, children's program, and teen center. Stunning views from the rooms.
Occidental Grand Papagayo-30 minutes from the airport. Adults only all-inclusive. This was our second host hotel and I was disappointed. I think it depended on what building you stayed in. Do not stay in building 1. Needs to be refurbished. We were sweaty from the day. No hot water, A/C barely worked, safes that didn't work, not as clean accommodations. Hard to figure out how to turn on the lights. Lighting in the room was not very bright at night…seemed darker. Three restaurants included one buffet, Italian, and Asian and also a snack bar. Limited room service hours. Daily activities and nightly entertainment including a disco. 2 nice pools, and a beach that took some walking to get to and down stairs. Okay, but better at other areas. Watersports, spa, fitness center, and a tennis court. No business center and the wifi really stunk. Wouldn't work at all in the building I was in and in the public areas near the lobby it was also hit or miss. Very disappointed in the property and would be reluctant to sell it.
JW Marriott Guanacaste Resort & Spa-310 rooms including 1 bedroom suites. Colonial themed property and the landscaping and feel of it so homey compared similar ones. Four restaurants including steakhouse, sushi, pool grill, and Asian fusion. 24-hour room service. JW kids club-ages 4-12 free and also offer babysitting hours. Spa with 18 treatment rooms. Really have no peddlers on the white sand beach because it's so hard to reach their location. Largest infinity pool in Costa Rica. Gold & Platinum receive complimentary WI fi otherwise fee for hotel guests. Spacious clean rooms with breathtaking views of the garden, pool, or the ocean. GORGEOUS
Barceló Langosta Beach- one hour from the airport-198 rooms. Standard rooms and suites with either balcony or terrace very. Tropical landscaping through out the property. Some of the suites feature the whirlpool on the second of the two levels. (In room safes) Adult's only area with own pool/bar. 3 restaurants. Fee for Internet. Live music at night-theater.
Tamarindo Diria-238 rooms. Tamarindo Beach and the town of Tamarindo. (Great beach for surfing) Spanish colonial décor with the first section offering incredible ocean views. The other part of the property is across the street with large pool and landscaped tropical gardens. Newest section of the hotel Tropicana area- adults only section with its own pool/bar. (Same side) Beautiful landscaping through out the property, swim up bar and offers daily breakfast buffet. Nice sand beach but noticed quite a few peddlers. Rooms offer tropical garden view, poolside view, sunset ocean view, etc. Great shopping and plenty of restaurant choices.
Witches Rock Restaurant-on the beach: Fajitas, tacos are great and best banana pancakes for breakfast.
Nogui's Restaurant: shrimp or lobster tacos or just a beer.
Patagonia Argentinian Grill: Nice dinner with good meat, amazing sangria. 3.00 margaritas during happy hour.
LA Baula: pizza restaurant located on one of the side streets.
Cococabana: Great place on the beach for salads and lunch. (Excellent location)
Coconuts: Lobster pineapple dish…a little more pricy but well worth it if you want to celebrate or have a nice dinner one night.
Buena Vista tour- This was a full day and a hour and half away to the Rincon de la Vieja Volcano. I along with several others got to go zip lining for our FIRST time! (10 platforms) I started out a bit nervous but by the last platform I was zip lining upside down by myself with the jungle trees below me. TRUE adrenaline rush and, as long as you can hike up to the starting point, you are good to go. (No weight restriction) Pro's are with you the entire time. Next, the 400-meter water slide down the hill. You strap on a rubber diaper so that protects your bottom. Slip the tire tube around and keep arms and elbows in. Release a gate that holds back the rushing ice cold water and away you go screaming all the way! Fewer agents chose to participate in this. I don't know why, I loved it. We got to view some incredible scenery while horseback riding, had a Costa Rican lunch with panoramic views, and used Volcanic hot mud that you scrub on the body and shower off. Final part was the hot and cold spring pools in the forest, where it was time to relax. AWESOME…. and yummy pina colada! NO wine during this whole trip. I stuck with dirty monkeys and turtle beverage.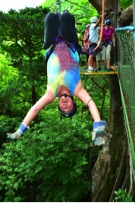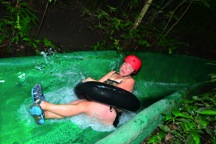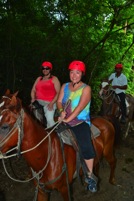 TAM TRAVEL-met us after we went through customs and were with us the entire trip. Ground handlers, transfers, and our tour guides along with Bev and Susan from MLT. They do an amazing job! They will do private transfers, groups of any sizes, etc. Offer wonderful tours through out Costa Rica. Friendly, professional, smart, and LOVE to share their country with all of us. Learn about the history, tips, and everything that makes Costa Rica not just your traditional vacation. You are in good hands 100%.
Final note: I went through U.S Customs first time through the Atlanta airport. They just put in four days before kiosk machines that now read your passport, takes your picture, answer the questions. No more filling out immigration card on the flight. Only applies for U.S. citizens. That was really cool!
Costa Rica offers thrill seeking tours including canopy, whitewater rafting, jungle trails, horseback riding, trekking, ATV, fishing, etc. Beautiful landscapes, unspoiled lush forest with exotic birds, mammals, and butterflies. Costa Rica encompasses several ecosystems and harbors incredible variety of wildlife. Relax and rejuvenate with volcanic mud and sulfurous waters. There are many volcanoes with six active and Arenal Volcano is the most visited. Anglers will find some of the best water and inshore fishing in the world. Each moment turned into an experience that went beyond a traditional vacation.
By, Kimmie Von Bargen
Alexandria Office