Consistently providing customers with reliable travel information and service.
M.W. "Pete" and Audrey Bursch purchased the "Bus Depot Café" in Alexandria in 1956, serving travelers by selling Greyhound Bus tickets and eventually, airline and steamship tickets and vacation planning.
As a result of consistently providing customers with reliable travel information and service, the travel agency outgrew the restaurant and bus depot business. Fred Bursch took over company operations in 1977 and purchased the business in 1986.
Guided by the company mission to offer unsurpassed service to travelers, Bursch Travel continued to grow. Today, Bursch Travel has 16 branch offices and 2 satellite offices in Greater Minnesota, North Dakota, South Dakota, Wyoming and Nebraska. Bursch Travel has developed into the largest privately owned travel company between the Twin Cites and Seattle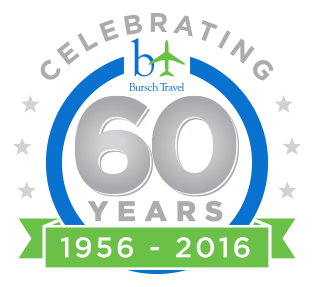 "Celebrating 60 Years of Showing you the World "
And to celebrate all of Bursch Travel employees and a traveling companion will be heading to Las Vegas November 11 - 14, 2016. Check back here for updates, pictures and videos of this amazing celebration.
And of course we will be offering our clients some great promotions during our 60th Anniversary Sale

November 15 -25. Check back here for those detials as we get closer.