July Offer - 30% off each guest + kids sail free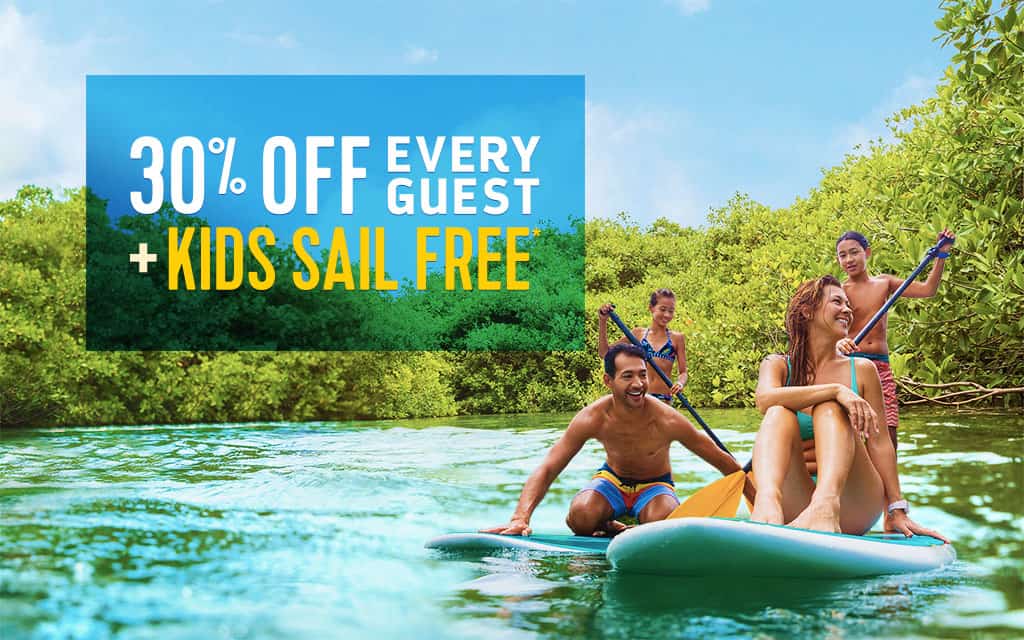 Take your vacation dreams and turn them up a notch with an incredibly epic adventure. Enjoy snorkeling through colorful coral reefs off the coast of Cozumel, take in Old World architecture and charm on a walking tour through Rome, or unwind with some much-needed beach time in The Bahamas. Wherever your travels take you, you'll be smiling with these next-level deals when you book starting July 1!

MAX-OUT YOUR VACAY
BRING THE WHOLE CREW
You will save 30% off every guest.
KIDS SAIL FREE*
Children get to experience the highlights of the high seas free of charge on all 3 nights or longer, departing between June 1, 2022 – May 25, 2023.
EVEN MORE LOVE
Redeem a Future Cruise Credit and receive a bonus of $100 in onboard credit.
OFFER DETAILS
30% Off Every Guest
Booking Window: July 1 – 31, 2022
Sailing Window: All sailings departing on or after August 2, 2022
Offer details: All guests 30% off
Kids Sail Free
Booking Window: July 1 – 31, 2022
Sailing Window: All sailings departing between August 2, 2022 – May 25, 2023
Offer Details: Guest 12 and under sail free on 3 night or longer sailings – Offer excludes Thanksgiving sailings (Departing between November 18 – November 25, 2022), Holiday sailings (Departing between December 18, 2022 – January 6, 2023), Spring Break sailings (Departing between March 10, 2023 – March 24, 2023), Holy Week/Easter sailings (Departing between April 1, 2023 – April 11, 2023) and Rhapsody of the Seas sailings (Departing from Haifa, Israel between August 5 – October 28, 2022)
FCC Kicker
Booking Window: July 1 – 31, 2022
Sailing Window: August 2, 2022 – December 31, 2023
How to Redeem: Guest must redeem FCC on a new booking made between August 2, 2022 – December 31, 2023, on a sailing on or before December 2023
Offer Details: $100 to spend at sea, OBC will be applied on the back end up to two weeks after the FCC redemption
Combinability: Applicable to all rate programs