Beautiful Contrasts of Japan
I'll start by saying that visiting Japan was a long-standing dream of mine. I had planned a trip 5 or 6 years ago, which was cancelled due to the Icelandic volcano eruption that closed the European air space (I was living in England at the time) so please forgive my loquaciousness.
Japan has many great places beyond Tokyo. I didn't get to Tokyo, even though I elected to stay a few extra days, and I really don't think that I missed out. Japan has so much to see, you could not do it justice in one trip, unless you stayed for several weeks.
When we arrived in Japan, we were met by our hosts and tour guides and loaded into a bus to the hotel in Nara. We had a quick dinner at place that had a menu that looked like a video game. You placed your order and paid on the "menu" and then just sat down and waited for your meal to arrive. Cool!
The next morning we visited Nara Park, a beautiful park with semi-tame deer wandering everywhere and a World Heritage Buddhist temple. It had an absolutely HUGE statue of a sitting Buddha. The two main religions in Japan are Buddhism and Shinto, which interestingly enough are not mutually exclusive. More than half the Japanese believe in both. Shinto worships nature, earth, sky, etc. Some of the temple locations were in amazingly beautiful forests, so I could totally embrace that.
Nara Park Buddha: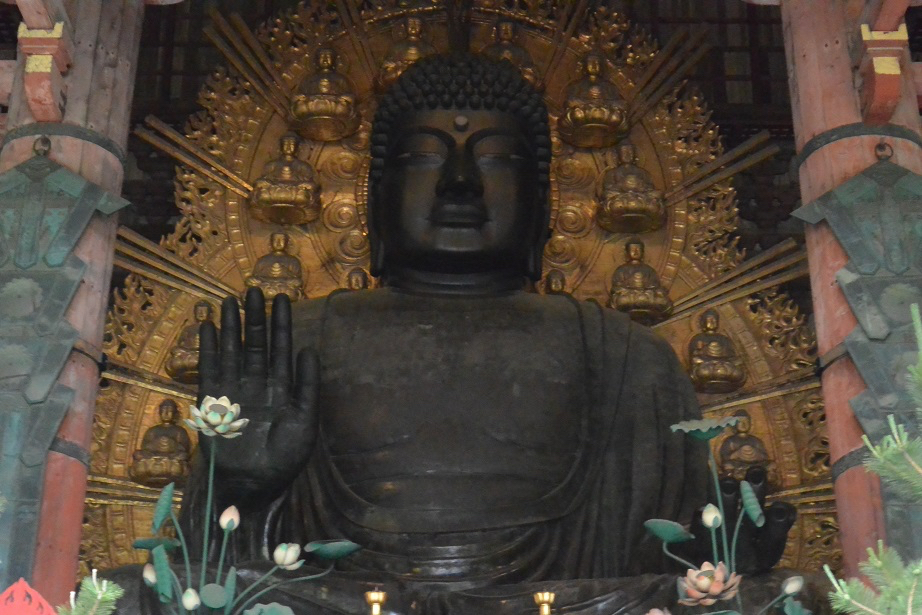 The next stop was Uji, which is the home of the most famous green tea in Japan. As well as having regular tea brewed with tea leaves, the tea is ground into a very fine powder called macha, and used in tons of different foods – including macha KitKats and ice cream. Here we had a chance to experience a traditional tea ceremony and visit another World Heritage temple: the Byodo-In Temple, in another lovely garden setting.
Byodo-In Temple:
After a traditional Japanese meal of 'Shabu Shabu', which is sort of like a fondue, with boiling water rather than fat, where you swish around thin pieces of meat, and vegetables to cook them before eating, we stayed overnight in Kyoto.
In the morning, we had a Kimono Experience at a textile factory and showroom. We got to be dressed up in traditional Kimono, took in a fashion show, and watched silk being spun from cocoons, and then woven into cloth. We only had the kimono on for an hour or so, but you can hire kimonos for the day, and walk around Kyoto, being photographed at historic temples, etc. in the traditional costume. We did see one or two Geisha or Meiko (apprentice Geisha) while we were in Kyoto, but the majority were people dressed up.
Next we visited the Fushimi Inari Shrine, filmed in the Memoirs of a Geisha movie, which is the head shrine of Inari, god of rice. It has thousands of orange gates in rows (Torii), all donated by businesses to receive blessings. After this visit, we had lunch at a tofu restaurant, where I have never experienced as many types and manifestations of tofu. I have always liked tofu, but that was too much for even me!
Fushimi Inari Shrine: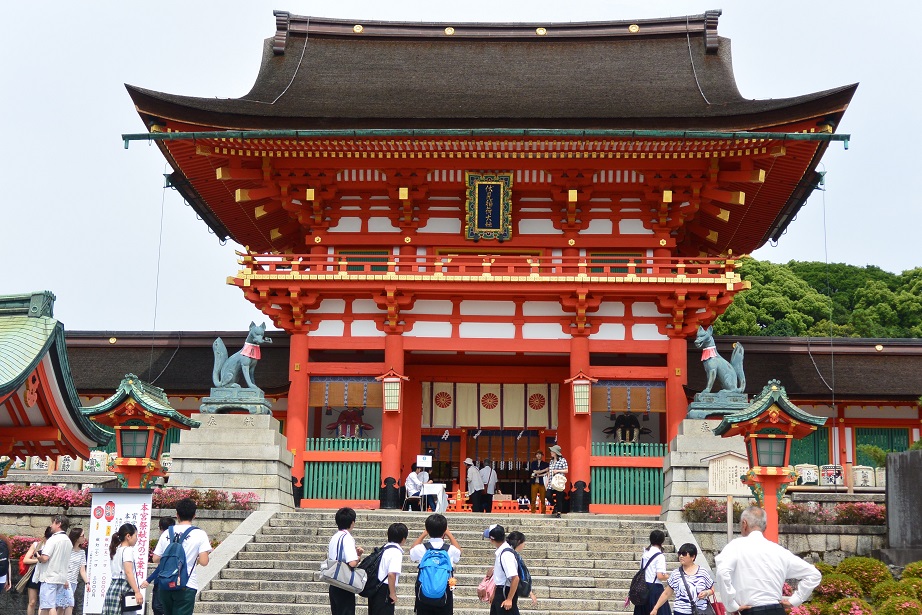 Torii Gates - Fushimi: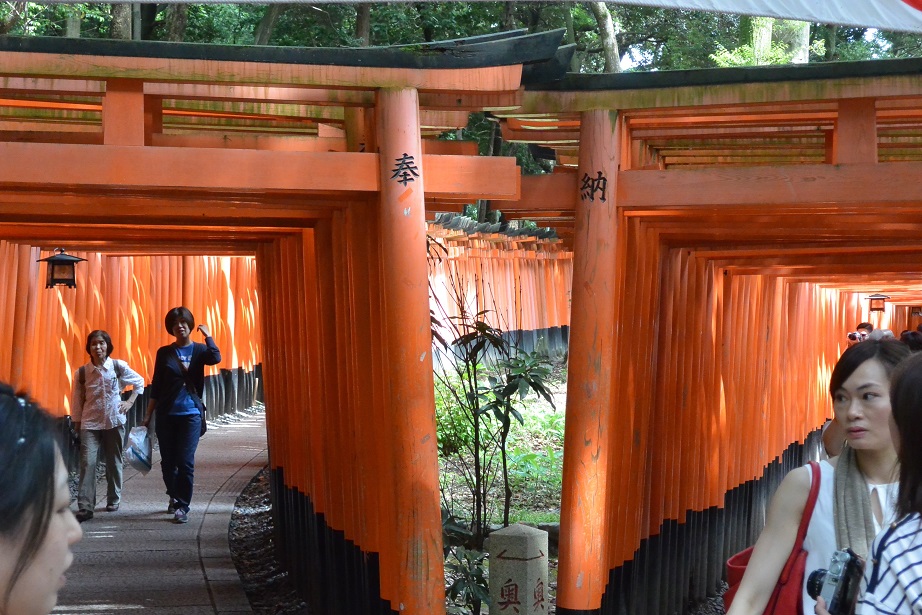 After lunch we took the bullet train to Himeji area, then were driven to the Ryokan traditional inn (with a stop at a supermarket on the way, which was great fun, as I love foreign supermarkets!) Ryokans generally have hot springs or public baths… one for men and one for women, where you wash before you get in, and just soak in the warm water. You are completely naked, which takes a bit of getting used to! As an aside, generally these hot spring baths do not allow you to use them if you have tattoos unless you cover them with band-aids. In Japan, tattoos are associated with the Japanese mafia so, if you have tattoos, you need to check whether it is ok in the particular baths. Better to know in advance (I brought band-aids with me) then to be turned away at the baths.
The traditional inns don't have a regular bed, and the floor is covered with tatami mats, so no shoes allowed. They give you slippers (and an additional pair of slippers to be used exclusively in the toilet, not to be worn out) At the end of the day, housekeeping will come in and lay out a futon on the floor for you to sleep on. And they had the most interesting pillows – they were filled with what felt like ½ inch long bits of plastic tubing, sort of the size of macaroni. It sounds very weird, but I had an amazing nights sleep with it, much better than my tempurpedic pillow, as I have neck problems. They are called 'Japanese pipe pillows,' and myself and one other girl had to find one in a shop to bring home, as they were so comfortable. I am still enjoying mine!
The next day, we climbed a big hill to yet another World Heritage Site, Himeji Castle. It is an amazing building… most Japanese buildings are wooden rather than brick/cement/etc, so unfortunately most of the temples and buildings that we have visited have been at least partially rebuilt due to fire damage. Himeji Castle has been recently restored and is very beautiful. Both at long range and up close. You are allowed to go inside it, and climb the 6 floors of stairs (after taking off your shoes to protect the beautiful wood floors) There is one staircase that goes up and one that goes down on each floor, so things kept moving, though there were quite a lot of visitors. It is supposed to be an amazing location to view cherry blossoms in the Spring, as you have wonderful views from the top floors.
Himeji Castle: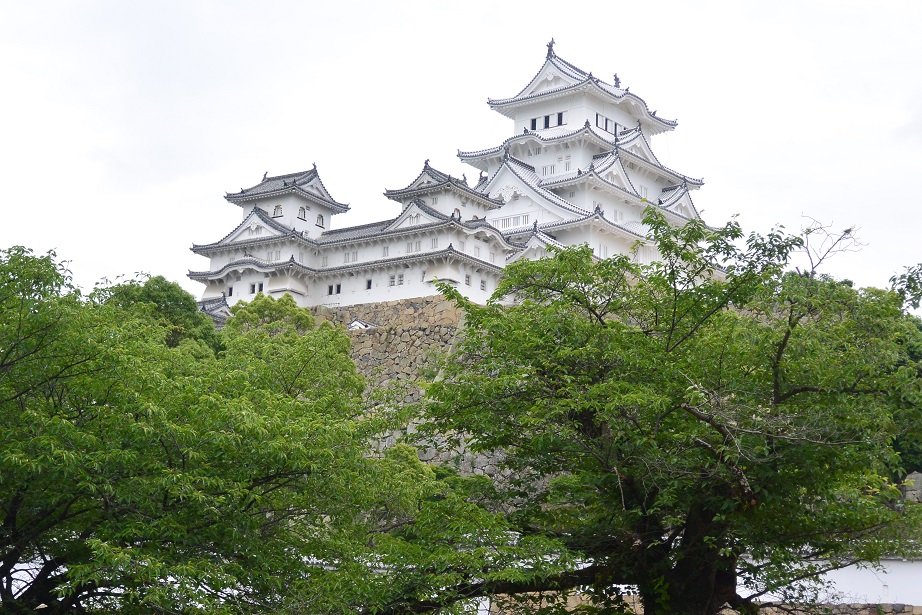 We then went off to visit Kobe briefly, the home of Kobe beef, the most expensive and most tender beef in the world. You can even buy a $17 kobe beef hamburger. Kobe, and most of the beef that I experienced in Japan is incredibly richly marbled, which I suppose helps with the tenderness, but I must confess I didn't really like it. A general note about Japanese food… Even when we ate in the fast food restaurant, the food was beautifully served on the plate. Often there were interesting miniature vegetables, and even a mini crab that you were supposed to eat whole. The other point of interest was that they seem to eat vast quantities and courses of food. Like Europe, there is a lot more walking generally there, but I still couldn't believe the quantity of food we were served.
Bento Box:
We then toured a sake distillery and tasted a few different ones. It would have been rude not to! Sake is pretty strong, and I did have a stomachache one day after drinking a generous measure of Sake the night before. They also had a bottled blend of sake and plum wine, which I thought was wonderful! If I thought I would have any room in my suitcase, I would have brought some home with me. President Obama had visited this distillery and a special blend was produced for the occasion, which was popular with the group.
We then arrived in Osaka, Japan's second largest city. We had some walking tours of the main city center, both in the evening and the next morning, which was great, as there were tons of neon lights on tall buildings, shopping arcade after shopping arcade. In the morning we visited the huge fish market, a market devoted to kitchen equipment and utensils, and even got to visit a Japanese 'dollar store' (100 Yen store, which is actually at current exchange rate 87 cents – bargains!)
On our final full day we visited Koyasan, another World Heritage site. It is on top of Mt. Koya and is reached by funicular railway. Koyasan is a center of Buddhist study, and there are well over 100 temples here, 52 of which offer accommodation for visitors and pilgrims. We had a wonderful vegetarian meal prepared and served by monks while we were here. The largest cemetery in Japan is also here, with over 200,000 gravestones and monuments in a beautiful wooded area extending 2km. It is a wonderfully peaceful place, and I could have spent the entire day just wandering round the area. Most of the trees are pines and conifers - some are absolutely HUGE!
Cemetary Koyasan:
Our hosts were amazingly patient with us, and I was very impressed with the timetable being adhered to with great precision. I understand that the trains are very reliable, and the driver will apologize if it is more than 2 or 3 minutes late.
After the tour ended, I had my own quest! I had been sent a YouTube video link a couple years ago of a Japanese woman shaking a bag of food, and being chased by an army of rabbits. As I have pet rabbits and volunteer in rabbit rescue, it was always a dream to visit this place – an island in the South Japan sea called Okunashima, but also known as Usagi Jima, or Rabbit Island. It is an island that was used for storage and testing of poison gas during WWII. After the war, the island was cleared, fumigated and abandoned. In the 70s, some pet rabbits were let loose on the island. There were/are no natural predators, so they did what rabbits do very effectively, and now there are in the neighborhood of 700 rabbits on the island, and they have become somewhat of a tourist attraction. There is a government run traditional hotel on the island, and not really much else. I walked round the entire island in a morning. There are some very interesting old buildings, factories and storage facilities, and there are some signs detailing what you are looking at, and there is a poison gas museum, which I didn't have time to visit. The biggest tip for visiting this island is to bring TONS of bunny food. I brought 10 lbs of bunny pellets with me from the states, and bought some veg the day before in the markets, but there are so many bunnies, I felt terrible when I ran out of food. They don't sell it on the island, which is totally nuts. The station where you catch the ferry sells little bags of pellets. The rabbits were being looked after by the national park staff. I saw dishes of water everywhere, and saw a staff member feeding some below my hotel room window. I understand there is another similar island filled with cats, and another with monkeys. So maybe I could do a tour for animal fanatics. :)
Feeding the Bunnies: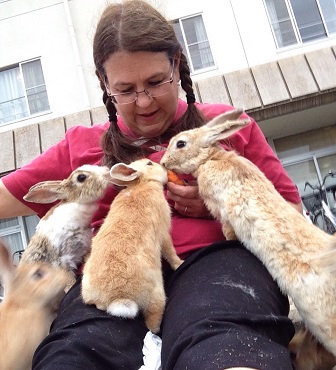 In conclusion, Japan is a wonderful fascinating country full of contrasts. It has a reputation for being expensive, but it is quite possible to visit here for similar money to Europe, and to really experience a totally different culture. I have no doubt I will be back!
Written By,
Julie Glover - Travel Consultant at Bursch Travel, Northfield