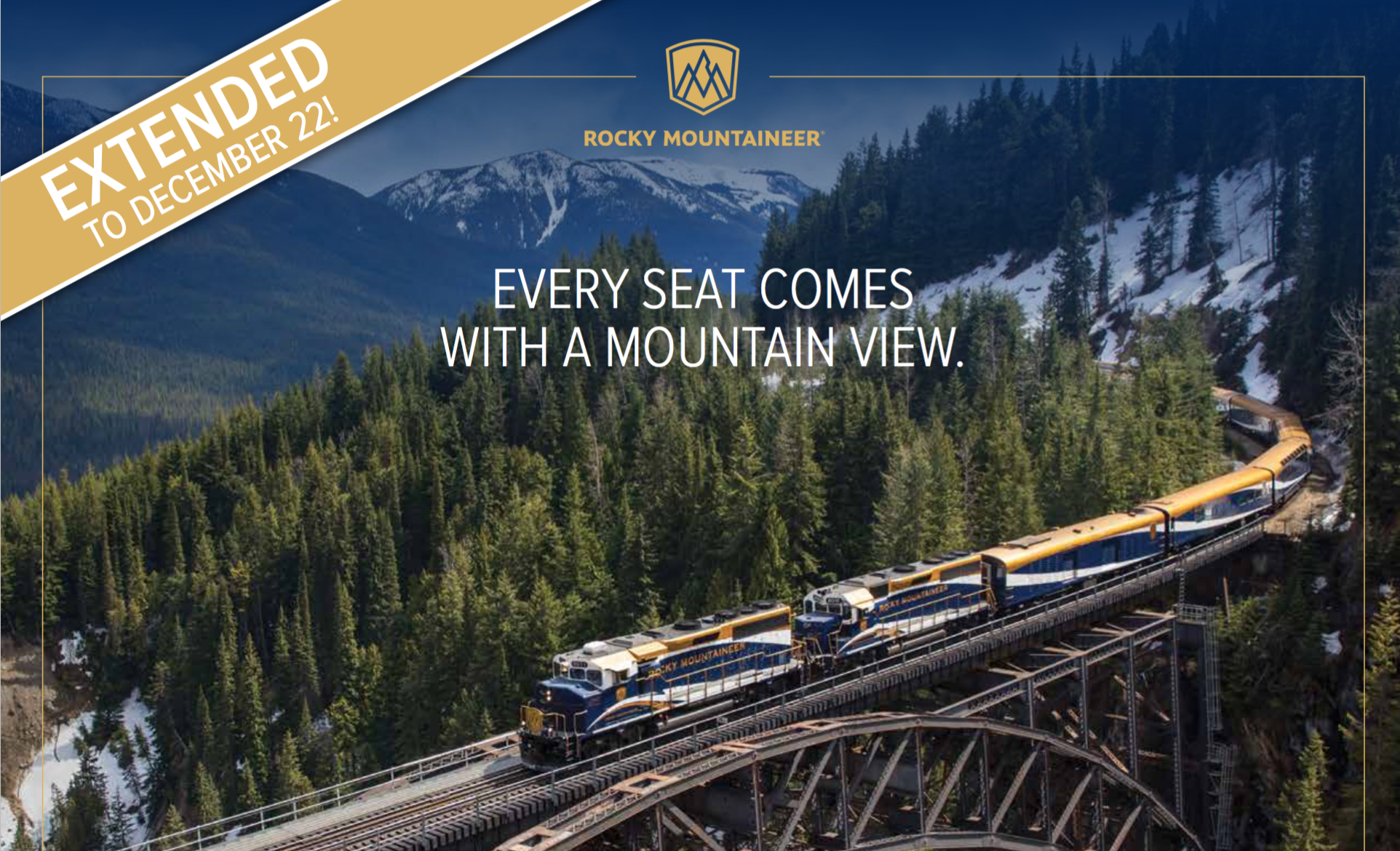 Every seat comes with a mountain view.
BOOK NOW AND RECEIVE UP TO $600* PER COUPLE IN ADDED VALUE.
Come explore the Canadian Rockies with an unforgettable rail adventure. Aboard our luxurious coach, you'll make friends from around the world and enjoy regionally inspired cuisine while being surrounded by world-class scenery. Offer expires December 22, 2017. Applies to qualifying 2018 packages. Click here to contact your local agent for more details and booking!
*Terms & Conditions: Credit must be requested at the time of booking and will not be automatically allocated or retrospectively added. Credited option must be selected at the time of booking and can only be added to a Rocky Mountaineer package. Offer valid on new 2018 bookings made between August 26, 2017 and December 22, 2017. This offer is applicable to 2018 Rocky Mountaineer packages of five or more days on select dates only. Travel during the 2018 Rocky Mountaineer summer season between April and October on select dates. Deposits are required at the time of booking and full payment of the balance must be made by January 19, 2018. Maximum offer value of $300 USD per adult credit ($600 USD added value credit per couple) is with qualifying holidays of eight days or more in GoldLeaf or SilverLeaf Service. Added value credit amount varies by duration of package. Qualifying packages of five to seven days if GoldLeaf or SilverLeaf Service will receive $195 USD per adult credit ($390 USD added value credit per couple). Applicable to single, double, triple or quad package prices. Qualifying packages can be purchased in any class of train travel or grade of accommodation. An amendment fee of $40 USD per booking will be charged for changes to the use of the credit after the booking has been confirmed. Credits can only be used towards the purchase of additional services offered by Rocky Mountaineer – the credit cannot be used to upgrade rail service or accommodation. Offer value is expressed in USD as of July 1, 2017 as a guideline only and may vary at the time of booking based on changes in exchange rate with the CAD. Credit cannot be deferred to a later trip. Offer is not applicable to child prices, 2 or 3-day rail only bookings or Group Tour bookings. Not available in conjunction with any other offer. Offer has no cash value and is non-transferable. Offer is capacity controlled and may be modified, withdrawn or amended without prior notice. Additional conditions apply.