Alaska Cruises: Feel Free to Let the Outside In
Filled with icy fjords that tower over the Pacific Ocean while snowy peaks stretch towards the horizon, Alaska feels boundless. Yet incredibly intimate as you watch eagles nesting along coastal forests. Norwegian lets you explore all sides of Alaska the way locals see it, up close and personal on an Alaskan cruise. Or head deeper into the frozen wilderness on an Alaska Cruisetour. Experience the thrill of a 30 ton whale gliding under your catamaran. Kids' faces will light up like the midnight sun as they enjoy special kids activities and entertainment on board Norwegian Jewel and Norwegian Sun. Or experience a vacation like no other on board Norwegian Bliss and her sister ship, Norwegian Joy, when she begins cruising Alaska in spring 2019. Explore more of the Last Frontier on any of our Alaska cruises with Norwegian.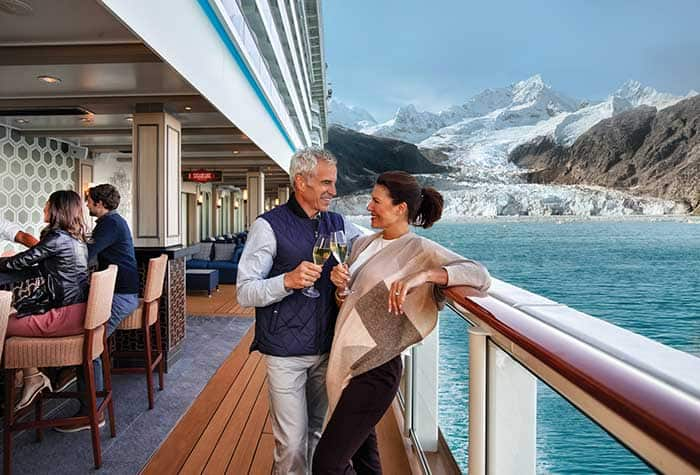 Enjoy the Freedom to Cruise Alaska the Way You Like

The best way to cruise Alaska just got better – with five ships now cruising Alaska, you have plenty of opportunities to enjoy the onboard experience that's right for you. Thrill seekers will jump for joy at our two-level race track and laser tag; available on board Nor wegian Encore, Norwegian Bliss and Norwegian Joy. Looking for a more intimate ship experience? The newly revitalized Norwegian Sun is bringing that and more with its beautifully renovated spaces and staterooms. Sip a cocktail with fantastic views from the coziest spot at Spinnaker Lounge or take a dip in one of the five hot tubs. Whichever route you choose, Alaska and the vacation of a lifetime await.
Explore Alaska by Land and Sea