Disney Cruise Line Vacations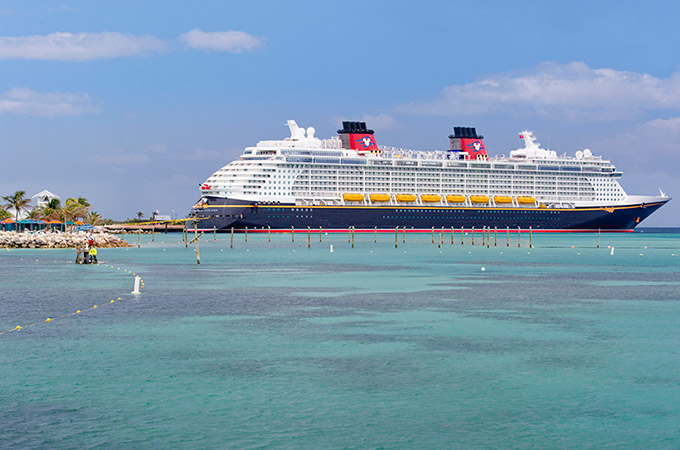 Disney Cruise Line has selected the most stunning destinations in the most exciting regions around the world for cruises you and your family will not soon forget. Enjoy the service and expertise of our dedicated crew as we guide you in your exploration of amazing ports of call, from the Caribbean to Alaska and Europe. Discover, in detail, the world of delights waiting for you.
Early 2018 cruises are now open for booking.
Bahamas
Drop anchor in paradise on a 3-, 4- or 5-night cruise from Port Canaveral (near Orlando) and Miami. Exciting ports of call include Nassau and Key West—and all itineraries stop at Disney's private island, Castaway Cay.
Eastern Caribbean
Surround yourself with crystal blue waters and powder-soft beaches when you embark on a 7-night cruise to such unspoiled destinations as Tortola, St. Thomas, St. Maarten, San Juan and Disney's private island, Castaway Cay.
Western Caribbean
Soak up the tropical beauty and vibrant cultures of Costa Maya, Cozumel, Grand Cayman and Falmouth, Jamaica during a 7-night roundtrip cruise from Port Canaveral that includes a stop at Disney's private island, Castaway Cay.
Southern Caribbean
Explore natural wonders, treasure hunt for amazing bargains and make waves for a limited-time during a 7-night cruise out of San Juan, with stops that include St. Lucia, Aruba and Antigua, as well as new port of call Kralendijk, Bonaire.
Baja Peninsula
Take off on an unforgettable 2- or 5-night cruise from San Diego to Ensenada—available for one month only—and delight in stellar surfing, innovative cuisine and legendary hot springs amid paradise.
Panama Canal
Savor top-notch amenities aboard a 14-night coast-to-coast cruise that takes you from Port Canaveral (near Orlando) through the world-famous Panama Canal. Call upon blissful port cities in Mexico, Colombia, Costa Rica and the Caribbean before landing in San Diego, California.
Click here to book your Disney Cruise today with a Bursch Travel office near you