"Best of the Big Apple" 10th Anniversary Tour!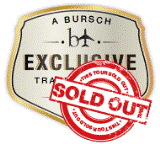 October 17-21, 2019: MEA Weekend!
Escorted by Karen Dembowski - Bursch Travel, Waite Park
Please join us on our special 10th Anniversary Tour of New York City! This unique and completely customized tour is comprehensive and creative so you can see it all and have fun too! You will have free time to shop, sightsee or catch an unforgettable Broadway show Saturday night or Sunday. This tour is a perennial "sell out" and has been enjoyed by countless Bursch Travel customers for good reason. No other tour compares to Bursch Travel's "Best of the Big Apple."
Inclusions:
Roundtrip flights from Minneapolis to New York. (We can price tickets from other airports if necessary.)
Four nights at the Novotel
All transportation
Local guide
Admissions for our multiple attractions and customized tours
One breakfast, one lunch and one dinner
For a list of the many tour highlights as well the full pricing details, click here for the brochure. This tour will sell out VERY quickly so please book early! You can find your nearest Bursch Travel agent here.