Alaska Cruise & Tour
July 31 - Aug 12, 2020
Hosted by Donna Strommen of Bursch Travel, Alexandria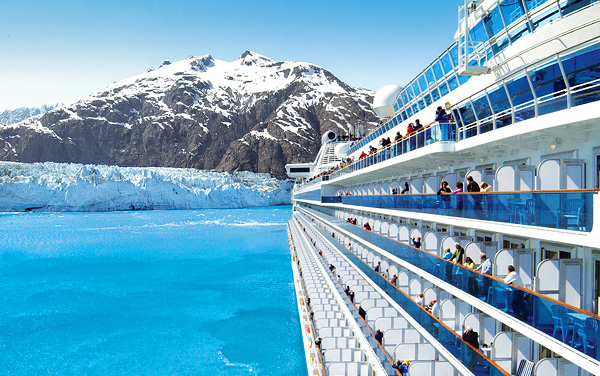 Join Donna Strommen of Bursch Travel, Alexandria on this spectacular cruise and tour of Alaska!
Mt. McKinley and the Alaska Range are simply stunning. Enjoy your journey along the George Parks Highway, an attraction, in itself, on your way to Mt. McKinley Princess Wilderness Lodge. Denali Princess Wilderness Lodge is the perfect base camp for exploring Denali National Park. The name "Denali" means "The Great One" in the native Athabascan language. Denali is the highest peak in North America and is surrounded by one of the world's most spectacular wildlife sanctuaries.
Enjoy the scenic rail journey to Whittier through some of the best wilderness in the Great land. Once in Whittier, you'll step from the train onto your ship for the beginning of your unforgettable cruise. The largest tidewater glacier in North America, Hubbard Glacier measures 76 miles long and plunges 1,200 feet into the depths of the bay.
Princess is one of a select few cruise lines permitted to cruise the pristine waters of Glacier Bay, the highlight of our 7-day Voyage of the Glaciers cruise. This breathtaking national park and preserve boasts some of the world's most spectacular tidewater glaciers.
Skagway was the gateway to the gold fields for the thousands who flocked to Alaska and the Yukon with the hope of striking it rich. Some 30,000 people live in Juneau. Its total area, 3,248 square miles makes it one of the biggest towns, in size, in the world. Visitors to Ketchikan will be intrigued by its rich Native heritage, which includes the world's oldest collection of totem poles at Totem Heritage Center. Canada's third-largest city, Vancouver is a cosmopolitan place with a European feel and a personality all its own.
For more details and pricing, click here for the copy of the complete brochure. Contact your nearest Bursch Travel advisor for booking, TODAY! Find the office nearest you here or call 1-800-645-2331.