Back to News
How to Help Those Affected by the Flooding in Nebraska and Iowa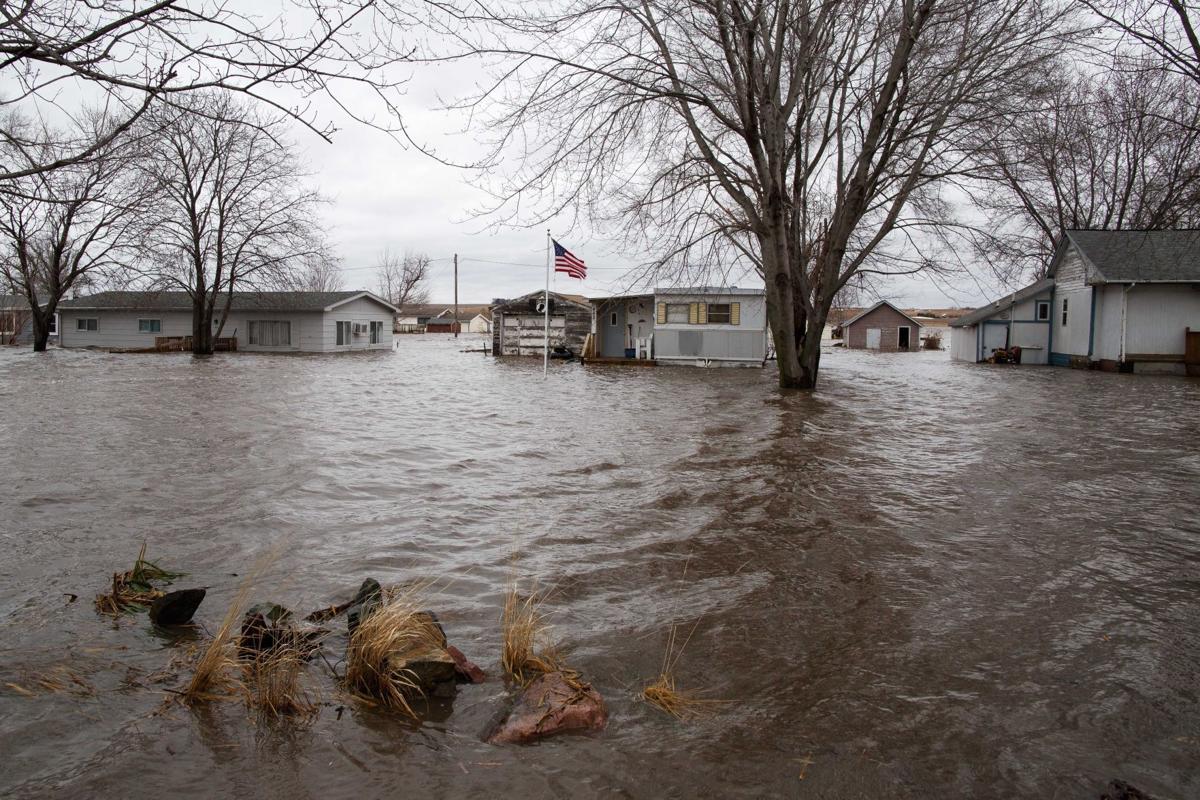 Join us in helping our Nebraska community through this devastating flood. Please consider donating your time or money to any of the great causes highlighted by Betsie Freeman of the World-Herald. We are #NebraskaStrong.
Article By Betsie Freeman / World-Herald staff writer. Omaha.com
March 18, 2019
Here are a few options for those looking to help amid the area flooding.
Salvation Army
A donation center at the old Canfield's store in Omaha will remain open through the week, said Susan Eustice, a spokeswoman for the Salvation Army.
Needs have shifted from bottled water to cleanup supplies such as shovels, masks, disinfectants and tarps. They now have sufficient supplies of bottled water after a rush of donations over the weekend.
The agency isn't set up to accept any other material goods so far, Eustice said.
The Canfield's donation site, near 84th Street and West Center Road, will operate from noon to 6 p.m. through Friday.
The Salvation Army also has a new hotline for donations, monetary or otherwise. It will be staffed by the agency's development staff from 8 a.m. to 6 p.m. through at least Wednesday. You also can donate money online with a special tab at salarmyomaha.org.
"After Wednesday, we will assess the call volume," Eustice said. The number is 402-898-7675.
As it turns its attention to flood cleanup, the Army still is seeking volunteers at registertoring.com or 402-898-6050.
Volunteers can help with cleanup at the Salvation Army Gene Eppley Camp, which suffered significant damage. Or they can ask to be assigned to a different area, Eustice said.
American Red Cross
Operating shelters remained the main focus of the local American Red Cross on Monday, said spokesman Josh Murray.
Eleven shelters are still open: four in Fremont (one closed Sunday); one each in Council Bluffs, Missouri Valley, Glenwood, Iowa, and Bellevue; and the rest further west in Nebraska. The agency also closed the Plattsmouth shelter.
The Red Cross will continue to accept monetary donations at redcross.org/local/nebraska.
Murray said area restaurants and Hy-Vee Supermarkets have been donating food to the shelters. As the need for shelters dwindles, the Red Cross will distribute cleanup kits to homeowners and start assessing damage to provide recovery assistance.
It's too early to know how much aid the agency can offer, he said.
Omaha Public Schools Foundation
Many Omaha Public Schools staff members live in flood-impacted areas, so the OPS Foundation has set up a fund to accept monetary donations to the American Red Cross for flood relief, superintendent Cheryl Logan said in a press release.
You can donate online at omahapublicschoolsfoundation.org/disaster-relief-for-flood-victims or send checks to Omaha Schools Foundation, 3861 Farnam St., Omaha 68131.
Community foundations
The Kearney Area Community Foundation is working with other community foundations on a disaster relief fund.
Contributors can go to kearneyfoundation.org/donate to help people who suffered flood losses in the Kearney area. To give to those elsewhere in west-central Nebraska, go to gicf.org for the Grand Island area, merrick-foundation.org for Merrick County (Central City and the surrounding area) and custercountyfoundation.org (Broken Bow and the surrounding area).
Bärchen
Drink craft beer for a good cause.
The Omaha Bar Association and Bärchen Beer Garden are sponsoring "Pints With a Purpose" from 4 to 9 p.m. Thursday, with proceeds going to the local American Red Cross flood relief.
All proceeds from the $15 wristbands sold at the door will go to help flood victims. The wristband will get you happy-hour pricing on Weihenstephan and Dogfish Head beer, $1 off cocktails and wine, and a portion from sales of those beers also will go to the flood fund. In addition, if you give a $25 flood relief donation at the door, you'll get a free pint of beer.
If you can't make it to the fund-raiser, you can donate at bit.ly/2ueIgGM.
Lifegate Church
A day shelter for people affected by the flood will be open Monday through Friday at Lifegate Church., 15555 West Dodge Road.
People can come to the church to charge mobile devices, use free WiFi, get free coffee, water and snacks, use restrooms and take a nap. The shelter will be open from 8 a.m. to 4:30 p.m.
Lifegate also is seeking volunteers to help with cleanup once floodwaters recede. Sign up or give donations at discoverlifegate.com/flood2019.
Premier Claims
A company that helps consumers with insurance claims is collecting donations for flood relief in Boyd County out of its office in Regency.
Premier Claims is targeting that county because a co-worker has family there, said sales manager Ryan Behm. The Niobrara River is nearby.
The company has two pickup trucks parked at Regency Shopping Center near 102nd Street and West Dodge Road. People can drop items in the trucks or at the office, 120 Regency Parkway, Suite 115.
Some of the items needed are cleaning supplies, face masks, trash bags, ziplock bags, paper towels, coffee and filters, personal care products for men and women, sanitizing wipes, lip balm, diapers and refillable jugs and batteries. A complete list can be found at www.facebook.com/PremierClaimsUSA/.
Truckloads of items were delivered over the weekend and more were to be distributed Monday, Behm said. The trucks will remain onsite this week; the company expects about 400 people for a ribbon-cutting on Friday and will take donations then, as well.
Behm said the company also wants to be a resource for homeowners who have questions about repairs or rebuilding after the water is gone. It employs licensed public adjusters who help people navigate insurance claims.
United Way
United Way of the Midlands has established the Nebraska & Iowa Flood Relief Fund to help people who lost homes or suffered other setbacks in the flooding.
One hundred percent of every donation will be given to nonprofit programs that provide shelter, food and other services in the Omaha area. Donors also can direct gifts to another flood-impacted community.
Go to unitedwaymidlands.org/floodrelief or text FLOODRELIEF to 41444. United Way also is helping flood victims in Nebraska and southwest Iowa through its 211 Helpline.
First responder AID
Two churches and a radio station are collecting new blankets, towels, bottled water, prepackaged snacks and adult-size socks for first responders who have been working to rescue flood victims.
Donors can drop off items at Community of Christ Church, 2102 Liberty Avenue in Missouri Valley, Iowa; Joseph's Coat Ministries, 1737 Washington St. in Blair, Nebraska; and at the studios of Boomer Radio, 1016 S. Highway 50 in Blair and 11717 Burt St., Suite 201 in Omaha.
CHI Health has provided about 100 vaccines for tetanus, hepatitis B or both for flood rescue workers. Family Fare supermarket in Blair also is taking donations of nonperishable food for flood victims.
Nebraska Farm Bureau
The Nebraska Farm Bureau has established a disaster relief fund and launched the Agriculture Disaster Exchange portal to connect farmers, ranchers and agricultural communities with help. To donate, apply for aid from the Disaster Relief Fund or use the Agriculture Disaster Exchange portal, www.nefb.org/disaster.
United Healthcare
Flood-affected plan members in Nebraska can contact a provider or get an early prescription refill by calling the number on the back of their medical ID cards. If you've lost your card, call 866-633-2446. Optum, a health and behavioral health services company affiliated with United HealthCare, has a free emotional-support help line at 866-342-6892. Mental health specialists will be available 24 hours a day, seven days a week for as long as necessary. It's open to anyone.
Archdiocese of Omaha
A special collection for flood relief will be taken during Masses this weekend at all churches in the Catholic Archdiocese of Omaha.
The money will go toward grants to rebuild and repair communities throughout the archdiocese. Pastors are assessing needs in their areas so they can make funding requests to the archdiocese, which covers most of northeast Nebraska, which has been particularly hard-hit by the floods.
Grants can be used for water, food, shelter, cleaning supplies, tools, building materials and tuition assistance for displaced employees, said Deacon Tim McNeil, the archdiocese spokesman.
He said archdiocesan funds can go toward communitywide recovery, not just parish needs.
Nebraska Cattlemen
Cattle producers can get aid from a new disaster relief fund established by Nebraska Cattlemen.
The state's livestock industry has been hit hard in this winter's major snowstorms and recent flooding, said Mike Drinnin, Nebraska Cattlemen president.
"We know the needs are great," he said.
The fund was organized as a nonprofit corporation and is seeking tax-exempt status so donations can be tax-deductible. Every dollar donated will be distributed to afflicted cattle producers.
To donate, go to nebraskacattlemen.org/disaster-relief-fund/. Checks can be sent to Nebraska Cattlemen Disaster Relief Fund, 4611 Cattle Drive, Lincoln, Nebraska 68521.
If you have hay, feed, fencing materials or equipment to donate, or if you want to volunteer for cleanup or other tasks, call the Nebraska Department of Agriculture at 800-831-0500. You also can call that number if you need help. You'll need to give your name, contact information, type and number of livestock, city and county, what assistance you're requesting and how urgently you need it.
University of Nebraska at Omaha
It's spring break this week at the University of Nebraska at Omaha, and officials are asking students, faculty and staff to volunteer for American Red Cross flood-relief efforts during their vacation.
For many students, this would be in addition to their participation in Seven Days of Service, a yearly series of opportunities to aid nearly three dozen local nonprofits.
Members of the UNO community were informed last week about support services available if they had been affected by flooding. Resources include emergency housing and confidential counseling.
To volunteer, go to redcross.org/volunteer/become-a-volunteer.html. To find a complete list of services for those impacted by flooding, visit bit.ly/2Fay9Yr
Photos: The Missouri River Flood of 2011 caused more than $1 billion in damage
When it was over, the Flood of 2011 left more than $1 billion in damage, claimed at least one life and wrecked towns, homes, farm fields and roads from Montana to Missouri.
It was a harrowing summer in the Omaha area as an army of volunteers and workers sandbagged, patrolled and plugged sodden levees.
Omaha Beef
Through Wednesday, $5 of every ticket sold for this weekend's Omaha Beef football game will go toward helping victims of flooding in the Omaha area.
The Beef will play the Oklahoma Flying Aces on Saturday night at Ralston Arena. Tickets for the 7:05 game, the Beef's 20th season-opener, range from $16 to $31.
"We have always had a great community of Beef fans that reside just outside the metro area, and we want to do everything we can to help them out," said Alex Reese, president and director of football operations for the team.
Tickets for the fundraiser are available at Beeffootball.com/nebraskastrong. A collection also will be taken up during the game.
Nebraska Humane Society
Workers from the Nebraska Humane Society have been rescuing animals throughout recent weather disasters, especially the ongoing floods.
A new tab at the NHS website allows donors to help those efforts.
You can make a one-time gift or sign up for a monthly donation at nebraskahumanesociety.org.
Millard School District
The Millard Public Schools will collect cleaning supplies for the Salvation Army from 8 a.m. until 5 p.m on Wednesday at the Don Stroh Administration Center, 5606 S. 147th St.
Items needed include mops and buckets, work gloves, rakes and shovels, household cleaners and bleach.
Tabor First State Bank
A fund for flood victims in Fremont County, Iowa, has been set up at the Tabor (Iowa) First State Bank.
For information or to donate, call 712-629-2435.
World-Herald staff writer Julie Andersen contributed to this report. Photo credit: Omaha.com
Please visit Omaha.com to see the full story.